Oil Pressuse Switch

07-19-2018, 04:59 AM
AudiWorld Newcomer
Join Date: Jul 2017
Posts: 1

Oil Pressuse Switch
---
Hi there,
The car gives me a problem with the oil lamp. The mechanic told me that there might be problems with the oil pressure switch. I took it over and the lamp lit up again. I do not know what to use. Can you tell me what is the original Oil Pressuse Switch for my AUDI A6 C7 Saloon (4G) 2.0 TDI, 177 HP (Model Year 2012)? What brand should I use? I found two models online but I do not know which one is suitable for my car. 0.2-0.3bar or 2.15-2.95 bar?

Thank you!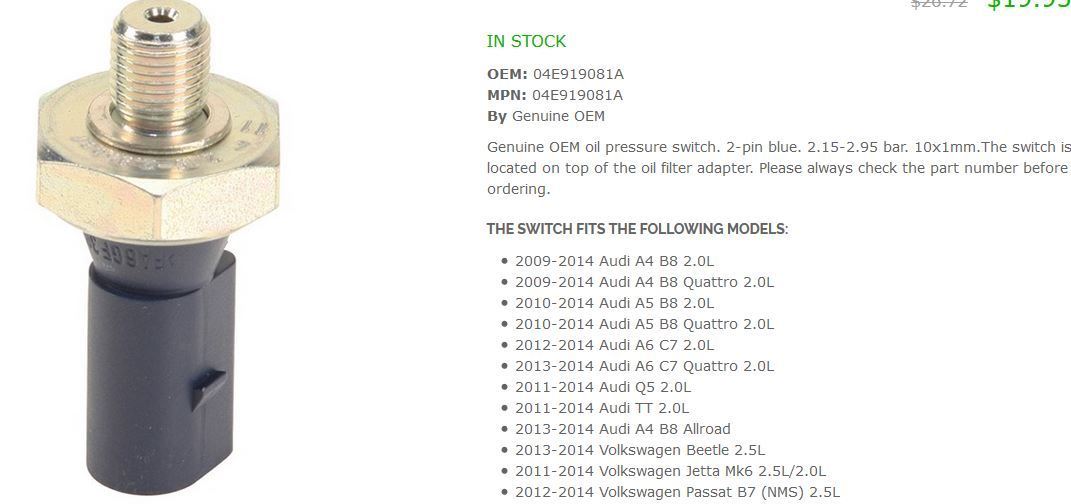 07-22-2018, 08:04 AM

---
You might have better luck getting the answer from the local dealer. I find the parts dept very helpful.
Thread
Thread Starter
Forum
Replies
Last Post
S4 / RS4 (B5 Platform) Discussion
RS4 (B7 Platform) Discussion
A4 (B5 Platform) Discussion
A4 (B5 Platform) Discussion