Spyder Hose removal

02-24-2014, 02:30 PM
Audiworld Junior Member
Join Date: Sep 2013
Posts: 17

Spyder Hose removal
---
Trying to remove the spyder hose from a 02 C5 2.7t. Can get the entire assembly off, except the very bottom hose going into the engine. Is their supposed to be a clip attaching it? Or maybe Im just missing the clip because of all the hoses in the way. But Im pretty sure that it looks like its just pushed in. Anyone know how to get it out? I want to make sure its not clogged their. Checked everywhere else and replaced the pcv valve. Pressure relief oil cap on the way also. Had the oil leaks and some blue smoke out the back. Hope cleaning everything out, solves the problem. IC's had a little oil in them, in the pipes, but flushed and cleaned them as well. Turbos are fine. Any help would be gratefully appreciated.

02-24-2014, 03:09 PM
Audiworld Junior Member
Join Date: Sep 2013
Posts: 17

breather hose
---
the breather hose outlet, thats what Im looking to clean out.

02-24-2014, 08:00 PM
AudiWorld Member
Join Date: Oct 2009
Posts: 302

---
Massive pain in the ***. It's the same kind of "clip" that the ends which connect to the valve covers have. Supposedly you just squish two sides of it and pull off. Of course old plastic doesn't bend as well any more. I had to use both hands and a decent amount of force when removing mine and that was with the intake manifold unbolted and lifted up some! (Was also replacing aux water pump)

Only thing I can think of is maybe heating it gently with hair dryer or something. Not to where it's burning your fingers or melting but warm enough that it's got a little flex back to it.

Honestly you probably just want to replace it with a new one unless it's been done recently. I think they're under $150 for official Audi ones and that plastic gets crazy brittle after awhile. Mine broke in three different places when I was GENTLY trying to remove it, that was after breaking right at a connection from excess pressure from being clogged...

02-25-2014, 03:33 AM
AudiWorld Senior Member
Join Date: Feb 2009
Posts: 1,124

---
I always take two long, flat tip screw drivers and wedge them in the sides that have the clips and gently pry them off. You have the sides that have the corrugations for you to squeeze, and the other sides have the clips. Put a flat tip between them, and turn it sideways and it will lift one end off. Try to either leave the screwdriver there and use a second screwdriver, or keep back pressure on the one you popped off while you use the screw driver on the second side. Those clips are a PITA.

02-26-2014, 03:00 PM

---
Hi all, this is my first post here.
Anyway, is it the connection in the middle here?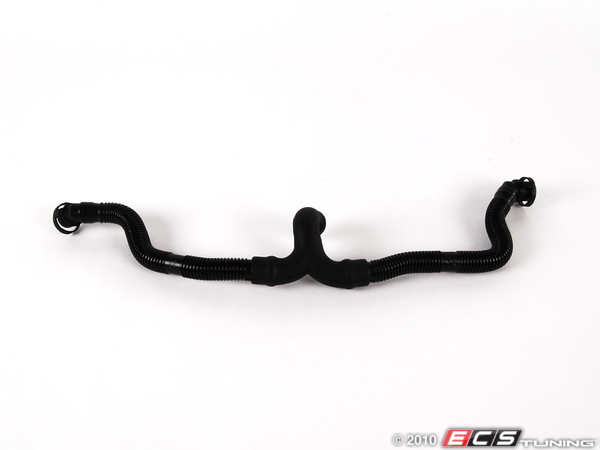 If so, no clip. I used a flat head screwdriver to wedge in and push when I was taking mine off earlier today, that rubber is on there tight. Mines an '04 S line, but I think it's the same part.
I maybe should have taped the end of my screwdriver first or used something hard plastic or something, but I didn't. But it didn't damage anything, so no worries.
Cheers!

02-26-2014, 04:47 PM

---
Oops, thought you were talking about the hose between the combi valves. Sorry.

Thread
Thread Starter
Forum
Replies
Last Post
A6 / S6 (C6 Platform) Discussion
Q5/SQ5 MKI (8R) Discussion
Posting Rules
You may not post new threads
You may not post replies
You may not post attachments
You may not edit your posts
---
HTML code is Off
---