Transponder in steering column

10-01-2012, 03:37 AM
AudiWorld Senior Member
Join Date: Jun 2006
Location: Southington, CT
Posts: 1,604
Received 0 Likes on 0 Posts

---
AFAIK the only reason for coding is to tell the computer the capacity of the battery so that it can properly manage the power draw when the engine is not running and determine when to start shutting down various systems. The coding process may also reset the power management system to the new battery's current state of charge. If you do not do this the car should still operate properly. It should not affect the life of the battery. I suppose it is possible that an improperly coded battery could end up dead or with a very low state of charge because the power management system will not know when to shut off the background accessories but a simple jump should get the car running again.

11-05-2012, 04:56 AM
Audiworld Junior Member
Join Date: Nov 2012
Posts: 30
Likes: 0
Received 0 Likes on 0 Posts

---
Does anyone know if a used Steering Column from a new A6 would work?

Was this problem fixed in newer A6s? Looking at this and other forums....it looks like only 2005s are having this problem.

Thanks,

11-05-2012, 10:04 AM
AudiWorld Member
Join Date: Nov 2010
Location: Ohio
Posts: 179
Likes: 0
Received 0 Likes on 0 Posts

---
Originally Posted by
Beachy
Key was not stuck in the ignition.
The MMI interface to the car only indication not "greyed" out was the battery indicator.
THe front console digital display would not light up.
The Audi diagnosis/bill did not indicate the code.
Radio worked, Navi worked, steering column was locked. Parkingh brake would not deactivate as car needs to be ON for that to work.
Glad yours was just the ign switch.
I am at the same place with this audi dealership. They quoted me 1500 bucks to take care of a right rear EPB, module harness etc... I declined. took a look and wires had corroded to the point they were no longer connected at the EPB motor. Bought wire connector and wire,butt spliced in and its working fine.
Your symptoms sound just like mine . . .
Getting towed to the dealer today or tomorrow.

11-27-2012, 02:49 PM
Audiworld Junior Member
Join Date: Feb 2007
Posts: 36
Likes: 0
Received 0 Likes on 0 Posts

---
I had the same problem in my 05 A6 4.2. I played with the key for 20 minutes and the car started. The steering works fine. I have a flashing warning light showing a steering wheel and a key. The steering works fine. My mechanic researched the issue and said I need a new steering colum to fix it. Fix it? It works fine. I've learned to live with the light.
This should be a covered Audi repair on all 2005 models. It's clearly a defect. I'm writing to NHTSA.

09-21-2018, 05:14 PM
AudiWorld Super User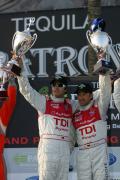 Thread
Thread Starter
Forum
Replies
Last Post
A8 / S8 (D2 Platform) Discussion
Audi 90 / 80 / Coupe quattro / Cabriolet
A4 (B6 Platform) Discussion