Intake Manifold Linkage Arms - Unbreakable Replacements

10-26-2009, 04:47 AM
AudiWorld Super User
Join Date: May 2003
Location: CT
Posts: 3,224
Likes: 0
Received 0 Likes on 0 Posts

If you look in my pictureposter you'll see a couple of pics
---
of the intake runner taken apart. You have to remove the intake manifold. As PaulW said, the reason these fail is because the magnesium corrodes internally and the vacuum actuator (which is incredibly strong) pulls the arm and it snaps because the intake runner can no longer rotate.

In my opinion (I've fixed three and seen a bunch more), if your arms are broken it's highly unlikely that it's only due to a plastic failure and replacing the arm(s) will "fix" the root cause of the problem. You have nothing to lose, you're going to need new arms anyway.

What happens is people replace the broken arms and because the intake no longer moves, the new arms don't break because they never move either. The problem appears to be "fixed".... You won't get any codes when this happens either. And, if you haven't owned the car for a while, might not even notice that they're not working. There is a vag-com output test.

You should be able to rotate the actuator by hand by either pulling the arm (opposite of where it connects to the vac actuator - black diaphragm) or by grabbing the black piece where the arm connects to.


Bob

10-27-2009, 01:29 PM
Audiworld Junior Member
Join Date: Oct 2009
Location: Kansas
Posts: 7
Likes: 0
Received 0 Likes on 0 Posts

Intake Linkage Arms
---

10-31-2009, 08:39 AM
AudiWorld Senior Member
Join Date: Apr 2001
Posts: 1,799
Likes: 0
Received 0 Likes on 0 Posts

cheaper solution
---

11-01-2009, 06:11 PM
AudiWorld Newcomer
Join Date: Oct 2009
Posts: 8
Likes: 0
Received 0 Likes on 0 Posts

---
Gruvenparts have them now too, and they look a lot nicer!!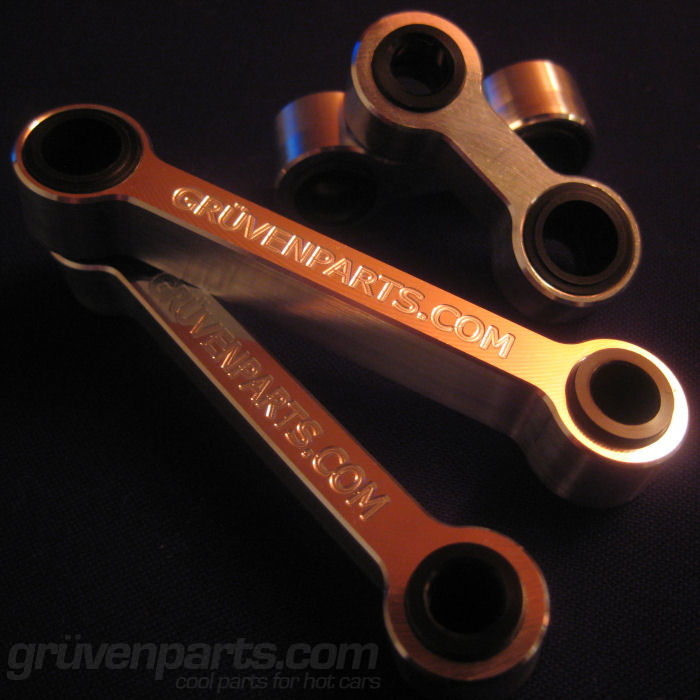 http://gruvenparts.com/website/cart/...category_id=60
I'm still a bit concerned, myself, with fitting unbreakable arms after reading about Bob's experiences. Assuming that the actuators inside the manifold do eventually become corroded and are prevented from moving, I wonder whether the arms might then cause damage to other parts if they can't move and can't break. On the other hand, since my engine has 63k on it and the actuators still move freely, my suspicion is that the corrosion problem might only be able to develop to the point that the actuators don't move if they've already been static for some length of time due to the arms being broken. I plan to keep a fairly close eye on mine after I fit the new arms, although the most likely thing to break other than the arms would appear to be the vacuum diaphragm or the ball connector on either end of the fitted arm, which doesn't appear to be a significantly worse scenario than I have now.

11-02-2009, 05:18 AM
Former Vendor
Join Date: Oct 2009
Posts: 880
Likes: 0
Received 0 Likes on 0 Posts

---
Click the link or pic to go to the product page. Remember that you can contact us virtually 24x7 via phone or email, and our parts are guaranteed for life. We are in this to provide top rate service and parts to our customers and we can be counted on!
And yes, do make sure the rods rotate freely, clean them up if needed.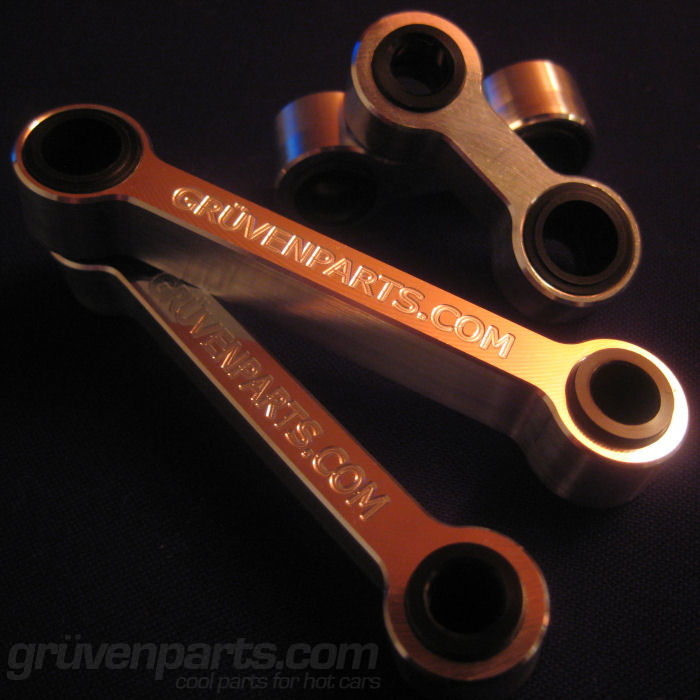 Audi/VW 4.2V8 Intake Linkage Arms !
GruvenParts.com 4.2L V8 Intake Manifold Linkage Arms Warranted for Life !

11-07-2009, 09:54 AM
AudiWorld Newcomer
Join Date: Oct 2009
Posts: 8
Likes: 0
Received 0 Likes on 0 Posts

---
I've just replaced the broken plastic VW arms with machined aluminium arms from gruvenparts.com (~$50, rather than ~$750 for the two VW kits you would require). I have to say, contrary to what the dealer told me, the difference is fairly dramatic. The throttle feels generally more responsive, and the acceleration is significantly improved, especially around the 3000 rpm mark. Just before 3000 rpm, it almost feels now like a turbo kicking in. I'm pretty sure they must have been broken when I bought the car, I've never known the engine feel like this. They're very simple to fit, they clip on to the nipples with a good squeeze on a pair of channel lock pliers. Highly recommended!

It seems the issue, at least on my engine, isn't corrosion inside the manifold. The rotating parts move freely and are actuated by the vacuum diaphragm as soon as the engine starts.

03-25-2010, 01:33 AM
AudiWorld Newcomer
Join Date: Mar 2010
Posts: 4
Likes: 0
Received 0 Likes on 0 Posts

---
Interesting... Actuator arms were ok on mine, BUT the two rods were ceased inside the graphite bushes. I wonder if this is why arms break??
Still, no explanation why the rods would cease inside the bushes.

03-29-2010, 07:21 AM
Audiworld Junior Member
Join Date: Oct 2009
Location: Kansas
Posts: 7
Likes: 0
Received 0 Likes on 0 Posts

---
Could you send the link or webpage to your picture posting on the Intake Runner maintenance to free up the stuck runners. I am going to first go with the Sea Foam in the intake, but wanted to see what the full job looks like.

Thank you,
Jason Luzar

03-28-2011, 09:03 PM
AudiWorld Member
Join Date: Feb 2011
Location: Asia
Posts: 102
Likes: 0
Received 0 Likes on 0 Posts

Where is the IM service link
---
Can someone please point me to the step-by-step guide /w pictures around the Intake Manifold service?

I have a 2001 Audi S8 and I have ordered a replacement for the broken part but would also like to conduct the service.

I had seen a pretty detailed write-up (Paul?).

Thanks in advance.

Cheers