looking for alternative to sirius radio

11-14-2017, 09:26 AM
Audiworld Junior Member
Join Date: Jul 2017
Posts: 50

looking for alternative to sirius radio
---
i enjoy their music and the price is right, $30. every 6 months. but the customer service is the lowest of the low im getting weary of playing their game and having to dance with them every 6 months.
i was on the edge and this week they pushed me off. purchased the audi a few months ago and had a trial period of xm radio.
i froze my account to run out the trail. recently noticed i wasnt getting some channels, but a screen message advising me to to call to subscribe for them.

when i did they told me there are two radio platforms sirius and xm,and my audi radio wasnt set up to recieve the premium channels. i told them i find that hard to believe.
they tell me i have two options i could pay more money to get more stations. or they would send me a radio with an adapter i plug into my car to get the stations.

i told them neither one is acceptable.and if my radio isnt set up to get all stations how can i get them if i pay more money. i told them forget those stations because im not paying more ,instead lower my bill.
im not gonna pay the same rate if you reduced my stations. they then told me they would give them to me no charge. i have to break away, because i aint got time for that or them.

not looking to store a music library or playlist. looking for a radio format like i currently have ,that throws random selections at me of the genres of music i select. also if possible not interested in anything thats consumes phone data. if thats not possible il consider it.

11-14-2017, 09:31 AM

---
www.pandora.com
If you get the premium package (no commercials/better sound quality/repeat function etc) its less than $5/month

11-14-2017, 10:01 AM

---
Spotify
is a bit better than Pandora (IMO) as they give you full control on the Desktop if you are on a computer a lot where as the Pandora just allows you to skip every 6 or 7 songs.
Either one is a good start for you to trey out.

11-14-2017, 10:01 AM
AudiWorld Member
Join Date: Nov 2014
Location: Massachusetts
Posts: 230

---
Pandora and Spotify are what I use.

11-14-2017, 10:13 AM
Audiworld Junior Member
Join Date: Jan 2013
Posts: 80

---
I already responded to your thread on AZ, but google play music is my vote for the best service (better than spotify and pandora) aka why pandora is a dying company.

11-14-2017, 10:16 AM
AudiWorld Super User
Join Date: Mar 2006
Location: San Francisco Bay Area
Posts: 3,368

---
I'm not quite following your issue and disagreement you have with them. Sirius and XM used to be two separate companies. They merged a few years ago. There are indeed different radios. There are actually three types of radios. Sirius, XM and SiriusXM. The latter supports both platforms. You can check the following website to see what radio type you have. If you are in the correct forum, then I assume you have a B9. The B9 has a SiriusXM radio, whereas the B8 only has a Sirius radio. Most of the stuff can be handled through their website. I have the Sirius Basic Plus plan for $60/year.
Vehicle Availability

11-14-2017, 11:10 AM
Audiworld Junior Member
Join Date: Jul 2017
Posts: 50

---
i do have a b9 ...im aware of the two companies and the merger. i wasnt aware of 3 types of radios.
i dont understand how they can tell me my radio is the wrong platform ,but by sending them more green that will somehow then make it the right platform.
im also aware of their website but prefer phone contact which allows me the option to ask questions.

this post isnt about sirius. i have been dealing with them for years ,i know about them,and what i know i dont like.
its for alternatives to sirius. they are not the only game in town. im searching for something new and better.

11-14-2017, 11:20 AM
AudiWorld Super User
Join Date: Mar 2006
Location: San Francisco Bay Area
Posts: 3,368

---
Fair enough. Besides Pandora and Spotify as already mentioned, there is also Audi's own MMI connect app, which among other things allows you to stream Internet radio stations via Wifi. Pretty much all alternatives will requrie a data connection one way or the other. With the MMI connect app, you need to keep your car's Wifi hotspot active with enough data left, while Pandora and Spotify can use the phone's own data connection and stream the audio over Bluetooth or you can use Apply CarPlay and/or Android Auto. Otherwise you'll have to go old school and listen to AM/FM radio.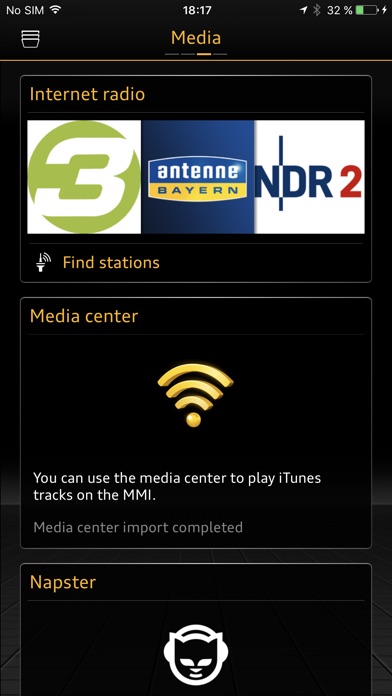 ---
Last edited by superswiss; 11-14-2017 at

11:44 AM

.

11-14-2017, 12:27 PM
Audiworld Junior Member
Join Date: Jul 2017
Posts: 50

---
thank you...im learning all alternatives require data usage.
im paying $5.00 a month, and no data with sirius...another provider would be increased cost plus data .
not going old school...might have to keep dancing with sirius.
il keep searching , and see what i learn.

11-14-2017, 12:34 PM

---
Posting Rules
You may not post new threads
You may not post replies
You may not post attachments
You may not edit your posts
---
HTML code is Off
---