Is the TTRS Roadster available for Euro delivery.

08-12-2018, 10:22 AM
AudiWorld Super User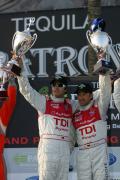 ---
If you are willing to spend the money to crash test one of the cars and have the emissions approved you can import one. Of course it will be economically prohibitive to pursue this avenue.

08-14-2018, 09:51 AM
AudiWorld Super User
Join Date: May 2017
Location: PA, USA
Posts: 2,568
Likes: 0

---

08-14-2018, 04:18 PM

---
Originally Posted by
[email protected]
TTRS Roadsteris not offered in the US. Is it possible to get one via euro delivery?
Just to clarify. You can only do ED with cars that are sold in the USA and produced in a European plant. The Q5 for example is not available for ED, even though it's sold in the USA, because it's produced in Mexico. Maybe they'll introduce Mexico Delivery at some point. These cars are no different than what's sitting on dealer lots. Some folks think if you do ED you somehow get an EU spec car. That's not the case at all. The only difference with ED is that before the car gets shipped to the dealership, you get to drive it in Europe for up to 6 months. Even though you take possession in Europe and the car is technically used, it will get registered as a new car once it gets here, but everything on the car is US spec and models that are not federalized and hence can't be sold in the USA are also not available via ED.
Thread
Thread Starter
Forum
Replies
Last Post
Audi A5 / S5 / RS5 Coupe & Cabrio (B8)
Audi Euro Delivery Program Discussion