1995 S6 No start / no spark

11-28-2011, 12:47 PM
Audiworld Junior Member
Join Date: Sep 2006
Posts: 23

1995 S6 No start / no spark
---
Hello everyone. I have a 95 S6 with 200K miles and it has a no start problem. I have taken the plugs out and checked for spark, nothing. We replaced the CPS and the car ran, we actually did the cheap way by buying the part and soldering it it. The car blinks 4444, I guess my first question would be, does a bad CPS always give you a code? It is acting as if the CPS is the problem I think. This is a cold no start problem. Thanks in advance for any help you may be able to provide.

11-28-2011, 04:49 PM
AudiWorld Senior Member
Join Date: Sep 2009
Location: Knoxville, TN
Posts: 619

---
I have never experienced it, but there have been a couple of reports of the CPS not recording a fault but changing it fixed the problem. I don't know any more than that. It might be helpful to at least remove the timing belt cover and use an inspection mirror to make sure the sensor is still in place and not damaged.
Recheck all the connectors for the coil pack to make sure one was not locked and has now come loose. Since you have moved the coil pack around some, look at the wiring to see if any brittle insulation has cracked and exposed wiring, expecially where it exits the rear of the cover. Tape up any bare wires. If anything is suspect there, check the fuse just above the ECU in the passenger floor. The brown ground wire that attaches at the back of the cam cover is important also; Make sure it has not broken and is making clean contact.
I try to make sure everyone knows about Scott Mockery's troubleshooting information available on his web site:
http://www.sjmautotechnik.com/

11-29-2011, 12:04 PM

Location of the Coil Fuse (and other Above the ECU fuses)
---
As Tom suggested, the problem might be that you have inadvertly shorted out a coil wire while moving things around (wires are old and the insulation is brittle, a dead short will kill the coil fuse. The information below will help you sort out that problem (you will have to pull the passenger footwell carpet back and remove a plastic cover to get to the fuse).
UrS6 Fuses above the ECU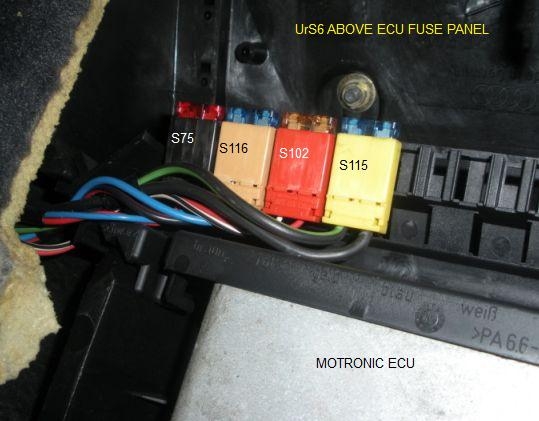 UrS4 Fuses above the ECU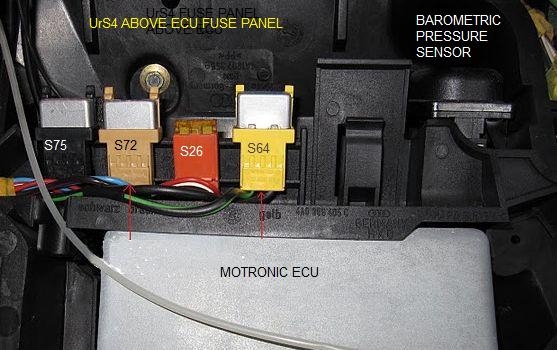 Fuse function and details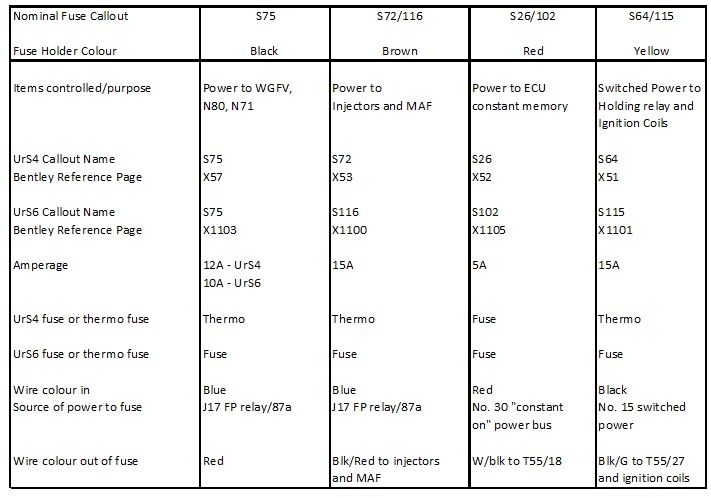 Thread
Thread Starter
Forum
Replies
Last Post
A4 (B5 Platform) Discussion
S4 / RS4 (B5 Platform) Discussion
Posting Rules
You may not post new threads
You may not post replies
You may not post attachments
You may not edit your posts
---
HTML code is Off
---