Callout for the Above ECU Fuse Panel Fuses - UrS4 and UrS6 differences

06-22-2014, 09:32 AM

Callout for the Above ECU Fuse Panel Fuses - UrS4 and UrS6 differences
---
Up until recently I did not know that the fuse panel above the ECU was different between the UrS4 and later UrS6s. Not only do the later UrS6s use straight up fuses, in three of four cases, they are also called something else . Furthermore the UrS6 S75 fuse seems to be 10A not 12A like the UrS4 thermo fuse. Here is some info that I hope you can confirm or deny or provide suggestions for improvement.
***************************
Above the ECU Fuse Panel Callout (See table below images)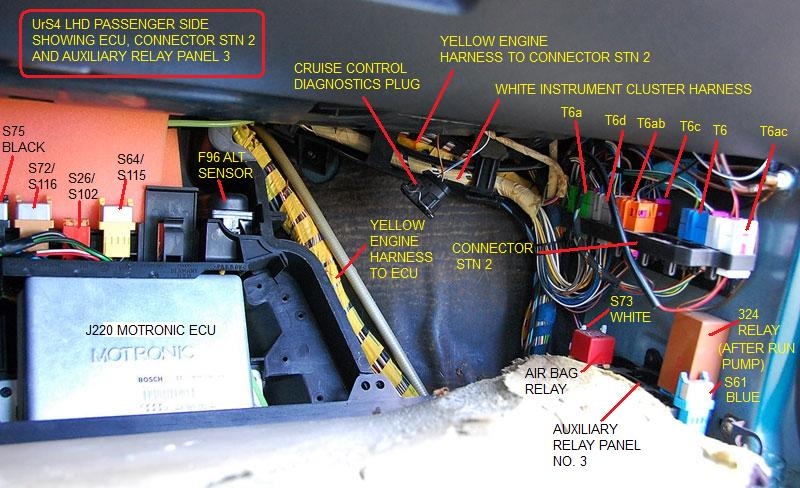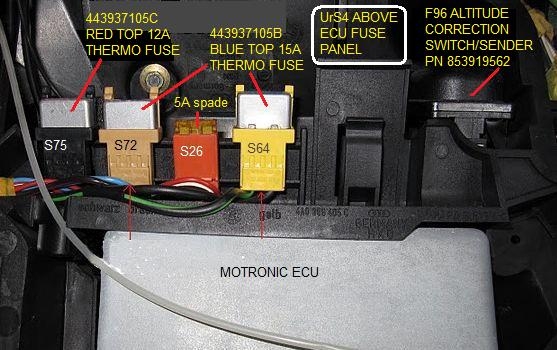 Thanks to Jamu (EmeraldUrS4) for the base photo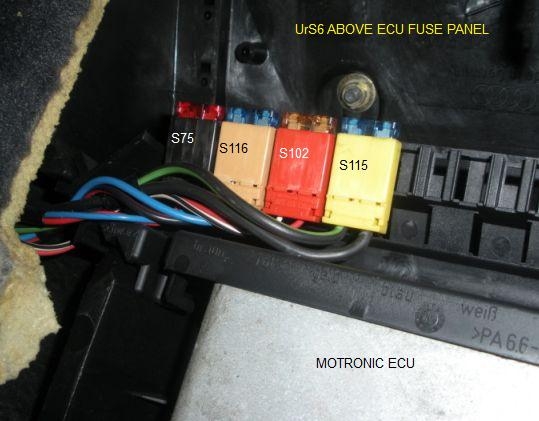 Thanks to DaTrem for the base photo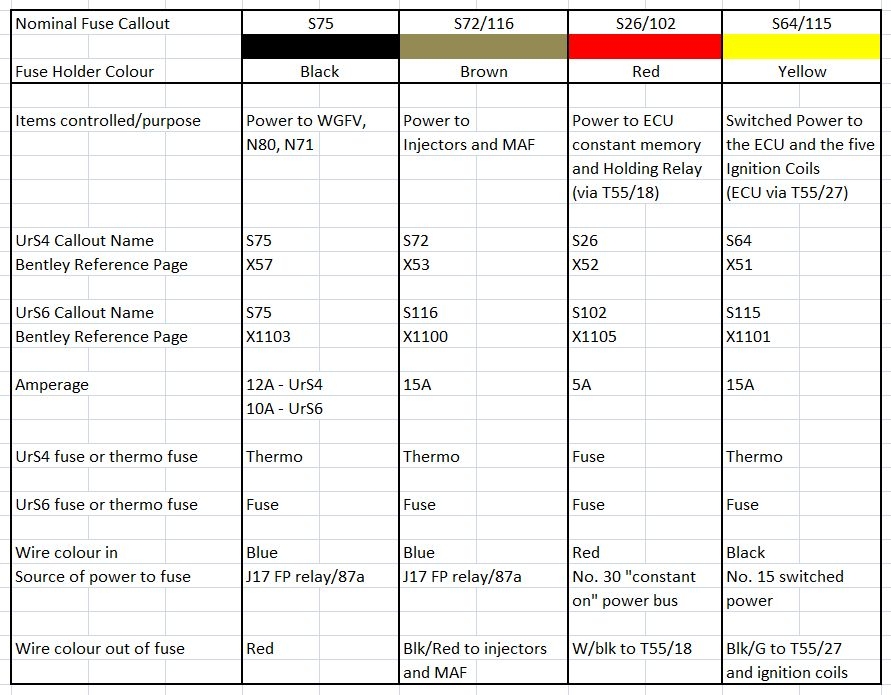 Here is the above-ECU-fuse panel on a RHD 1996 UrS6 (in this case also an autobox car):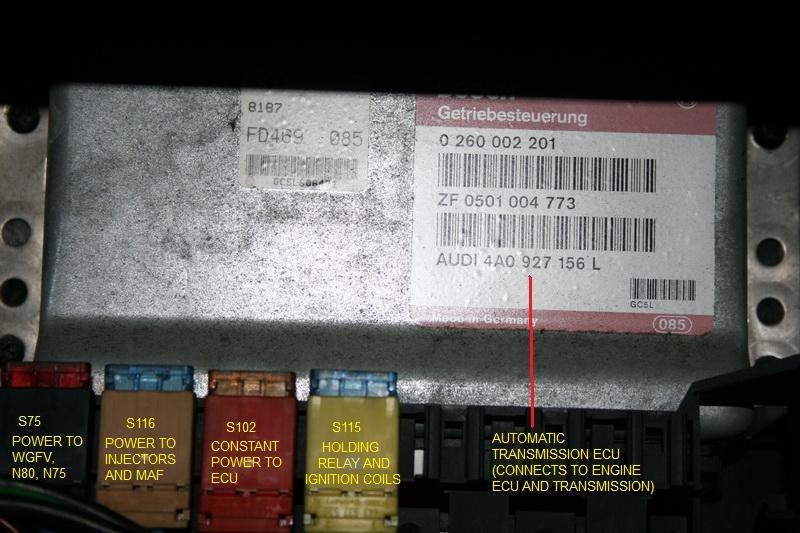 Unlabeled base photo courtesy of Popdemonic in Thailand
Here is a UrS4 Above-ECU-fuse panel released from its above-ECU mount to better show the wires: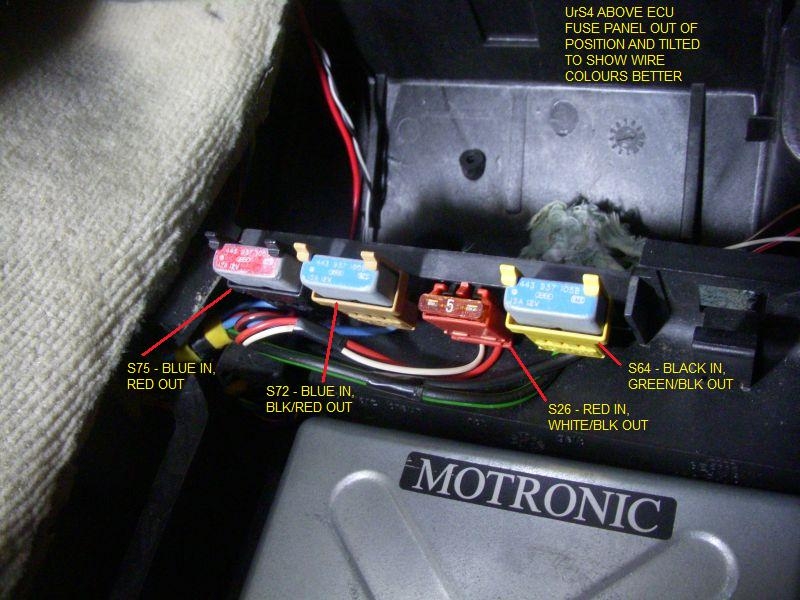 The wiring for this auxilliary fuse panel is bundled together (mostly) and heads towards the centre tunnel and then to ??? The White/blk ECU power from the ECU power fuse holder has to join the T55 bundle somewhere close.
Here is the panel with the UrS4 S26 fuse holder removed to show the back of the fuse holder wiring. The white wire with the black stripe ends up in the T55 ECU Connector bundle at Pin 55/18, as listed in the
ECU pin-out post
.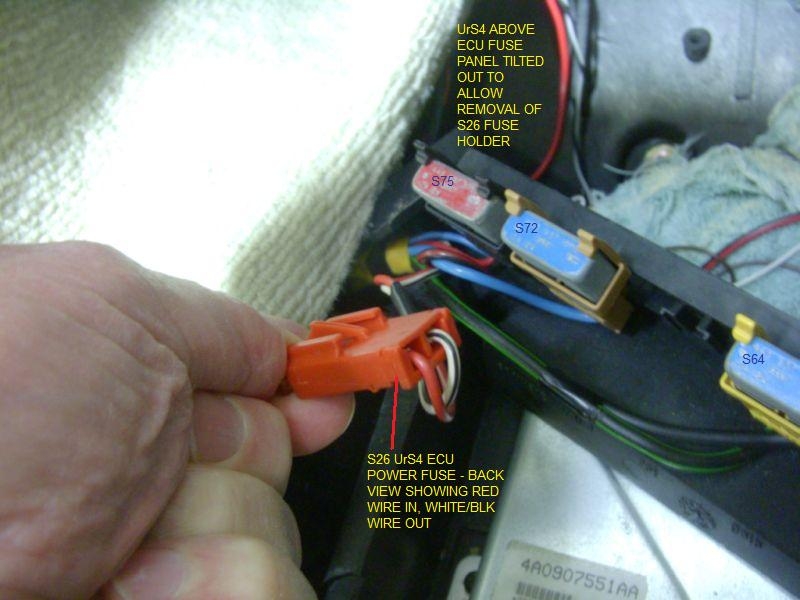 Thread
Thread Starter
Forum
Replies
Last Post
S6 (C7 Platform) Discussion
Posting Rules
You may not post new threads
You may not post replies
You may not post attachments
You may not edit your posts
---
HTML code is Off
---