How would the USA fair if it had no highway speed limit?

02-09-2019, 02:59 PM
AudiWorld Member
Join Date: Oct 2018
Location: Wisconsin
Posts: 177
Likes: 0
Received 0 Likes on 0 Posts

How would the USA fair if it had no highway speed limit?
---
Seems so silly such a huge country is held back with such low highway speed limits.

How much chaos would occur with unlimited highway speed limits in most places?

02-09-2019, 03:40 PM
AudiWorld Senior Member

02-10-2019, 09:25 AM

---
With all the left lane campers in this country one wouldn't get far. Passing on the right would have to be strictly forbidden, as it is in Germany and driver education would have to be significantly improved. If you look at the German Autobahn, the no speed limit sections are in the rural areas. Around metropolitan areas there are speed limits. Some sections have electronic speed limits that increase with light traffic or go unlimited at night when nobody is on the road. There would also need to be much stricter inspection laws to make sure the cars are roadworthy. You don't see the kinds of clunkers driving around Germany that you see here, or folks with barely secured cargo in their pickup bed and such. Basically w/o a complete overall of the driver education, it would be impossible. The USA with it's current low speed limits already has a higher per capita highway fatality rate, than Germany, which really puts a dent in the often used argument that speed kills. There are heavy discussions again now in Germany to introduce a highway speed limit, but the arguments for it just can't be proven. Fatalities have steadily gone down despite not having speed limits in many sections. It also turns out that most drivers limit themselves voluntary to about 130 kph. Fuel is a lot more expensive in Europe, so most people don't drive that fast. It's one of those things that just seems to work itself out w/o government enforcing a speed limit.
---
Last edited by superswiss; 02-10-2019 at

09:28 AM

.

02-28-2019, 12:50 PM
AudiWorld Newcomer
Join Date: Jul 2018
Posts: 3
Likes: 0
Received 0 Likes on 0 Posts

---
Being born and raised in the USA....utter disaster.

No one (well 90 + %) do not follow the rules for which lane is for what. This is the basic concept for highways such as the autobahn. Also I agree with the above post there would have to be some national standard for car safety currently in state "owned"

MA - Emissions and Safety
NC - Safety Only
FL- None

03-14-2019, 02:13 PM
AudiWorld Super User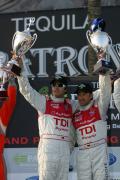 ---
Originally Posted by
Padding
where did this come from?
Thread
Thread Starter
Forum
Replies
Last Post
A4 (B5 Platform) Discussion
S4 / RS4 (B5 Platform) Discussion