21" S Line Wheel Touch-up Paint?

05-04-2016, 05:25 PM
AudiWorld Newcomer
Join Date: May 2016
Posts: 2

21 inch rims for S-line prestige
---
Hi guys,
I am new to this forum business, so giving it a shot. My wife had drove too close to a curb, which had scratched the rim of our 2015 Audi Q7 S-line Prestige. Does anyone have any suggestions on best place to get 21 inch stock rim grey color for a fair price?


Thank you,
Paul G

05-06-2016, 07:12 AM

---

11-08-2018, 11:33 AM
Audiworld Junior Member
Join Date: Aug 2018
Location: Chicago, IL
Posts: 7

---
Originally Posted by
iconoclast
L8AU > Titanium Wheel Finish Paint Code.
Pre-Mixed in aerosol can:
Spray Can Water Basecoat VW-Audi L8AU Granit Mat (400ml), Spraydosen
Brush:
Titanium L8AU Touch Up Paint for 2011 Audi R8 - PaintScratch.com
Contact Dr. ColorChip and see if they can mix it for you:
About us - Dr. ColorChip: Automotive Paint Chip Repair Systems
Almost any body shop worth their salt can do this too...
L8AU Finished Product:
Attachment 73689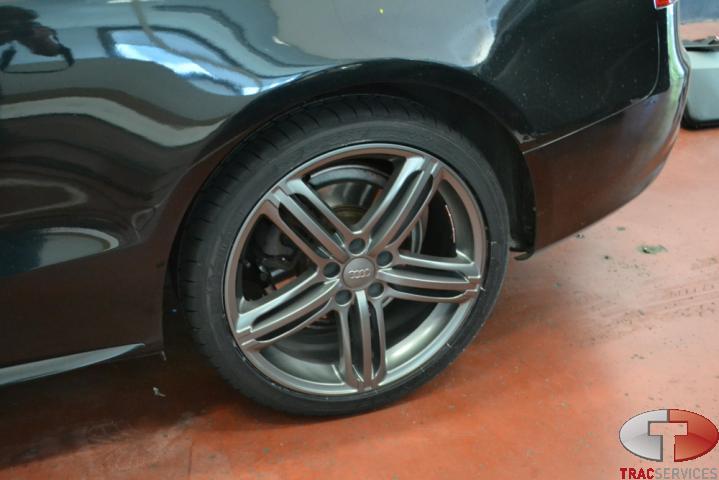 Can this also be used on gunmetal rotor wheels? Or is this a different color/finish?

11-08-2018, 02:47 PM

---
Hey Guys,
I purchased the L8U touch up brush for my triple spokes 21's, which I curbed a week after purchase.
It blends and not noticeable from a few feet away, which is great, but it does look not so nice up close.
Bottom line, it works and matches!
I hope this helps.
Thread
Thread Starter
Forum
Replies
Last Post
A6 / S6 (C6 Platform) Discussion
A4 (B7 Platform) Discussion
A6 (C7 Platform) Discussion