Q7 DIY subwoofer replacement

05-14-2019, 08:38 AM
AudiWorld Junior Member
Join Date: Mar 2019
Posts: 5

Q7 DIY subwoofer replacement
---
Coming from a JGC and Yukon (ugh... truck) to the 2018 Q7 Prestige is night and day. It's just a pleasure to drive. Having said that, I was disappointed that the "boot" (for my Brit friends) storage compartment didn't actually have any storage available as it is taken up by the Bose amp and sub. The sub is decent but is simply a storage hog. I decided to replace the stock Bose sub with a homemade box, sub, amp. This gave me a good amount of storage in the middle to keep a hitch, tools, supplies, etc. I also removed the foam container for the tire pump, which gave me additional room.
Items:
- 8" Kicker CompRT DVC 2ohm sub (wired in parallel to 4ohms): $110 @ Ama
- Alpine MRV-500 (300w @ 4ohm): $110 @ Ama
- 20' 4g power (only need about 11' from battery to sub... used short amount for ground to bolt on trunk latch): $30 @ Ama
- Metra carpet: 30 @ Ama
- 2'x4' 1/2" MDF and other supplies (yes... 1/2" is fine for an 8" sub): $20 @ HD
Dimensions for the box are 13"x12"x5" (interior is 12"x11"x4" or about .30cuft which is perfect for the slim 8" sub). Built the sub and carpeted. Used 1/2" aluminum rod for l-brackets to screw down at 3 points from old Bose sub. Tapped into line going to Bose sub to high-level input on Alpine. Mounted Alpine amp under sub.
Sounds 3x better, louder, more punchy than Bose sub and gives me extra room in the "boot". Does not shake the car next to me but that's not what I'm going for. It's a win, win! Maybe could have gone with a 10" sub but would have needed to build a slightly bigger box. The 8" Kicker only needs .2 cuft so it was perfect for this application. BTW, ran the power up the passenger-side channel by the doors into the boot. Tapped ground on the trunk latch bolts. Smaller box than the stock sub gives me about 14"x14"x8" space in the middle for hitch, tools, med kit, tire pump, etc. Lots more room.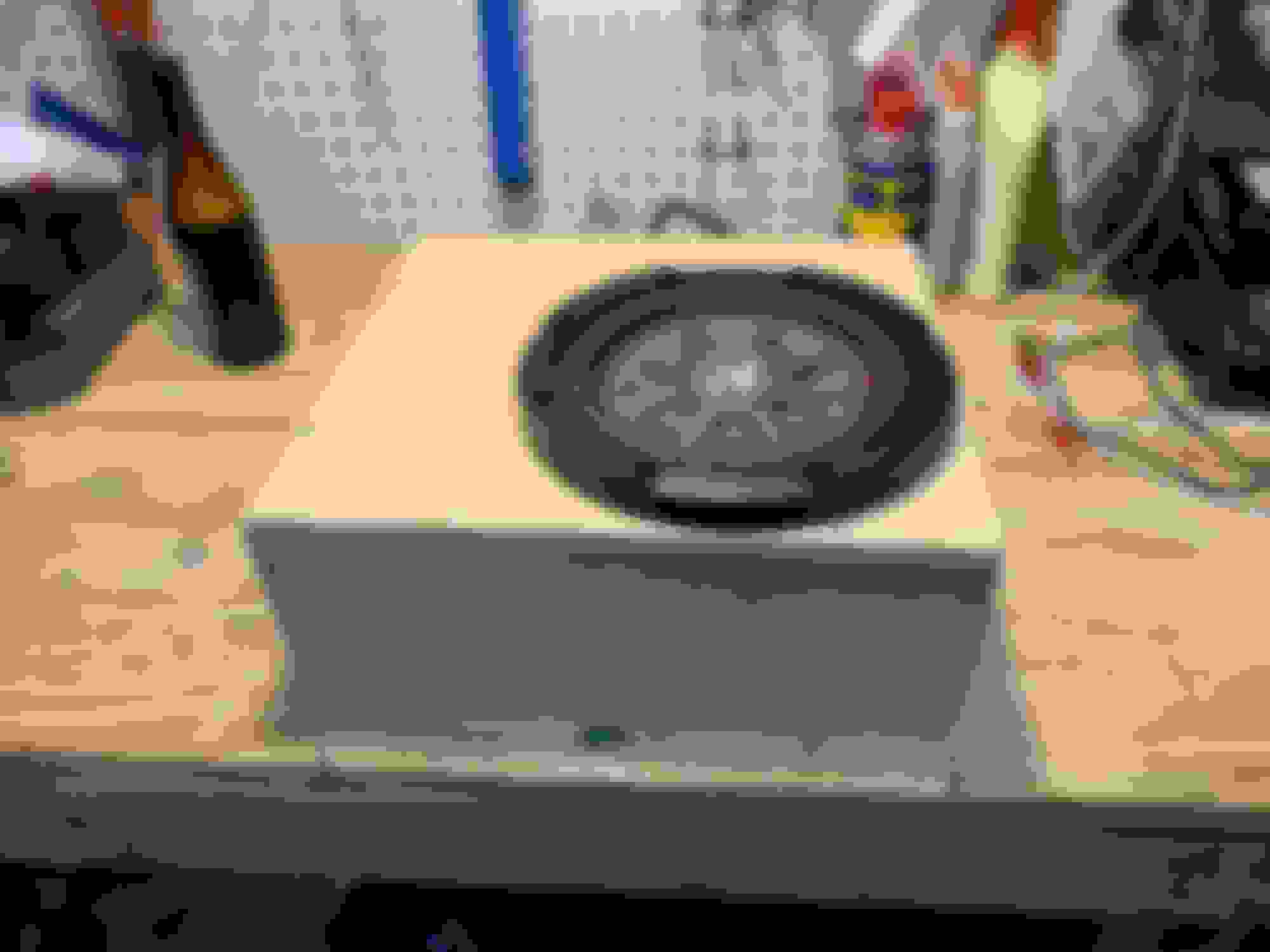 05-14-2019, 12:10 PM

---
Can we get more pics of the box after the install. Like take the other stuff out and get some close up of the mounting. Also the amp mounting too.

Pretty please.
---
Last edited by Lectoid; 05-14-2019 at

12:18 PM

.

05-15-2019, 09:59 AM
AudiWorld Senior Member
Join Date: Jul 2008
Location: Fresno, CA
Posts: 1,127

---
Very nice work! I have zero experience working on car audio and always envy those who are able to DIY stuff like this since I don't have any local car audio shops that I would trust doing a nice clean stealthy install like you did. Props.

05-15-2019, 12:32 PM
AudiWorld Junior Member
Join Date: Mar 2019
Posts: 5

---
Yeah, I'm glad the battery is where it is as well. Made running the 4awg wire much easier. A couple of things I forgot in the videos:
- 2ohm sub is wired in series, so 4ohm load to amp. Could have purchased the 1ohm CompRT and got down to 2ohm (450w rating on Alpine.. I think) but 300w is fine for this application.
- Tapped off the subwoofer line going to the Bose sub into the high-level inputs on the Alpine amp. Alpine is signal-sensing on the high side so no need to find and wire for a blue remote. Made the installation easier.
- For the ground connection, you just pop off the chrome looking trim where the trunk lid closes (and maybe the back wall.. can't remember). Pretty simple to do.
- The right-side footwell trim (front and back one piece) is easy to pop out as well, no screws.
Thread
Thread Starter
Forum
Replies
Last Post
A8 / S8 (D2 Platform) Discussion
S4 / RS4 (B5 Platform) Discussion
A4 (B6 Platform) Discussion
A4 (B6 Platform) Discussion