HELP! Car won't go into gear unless ignition is off

08-19-2014, 07:24 AM
AudiWorld Member
Join Date: Jun 2005
Posts: 213
Likes: 0
Received 0 Likes on 0 Posts

HELP! Car won't go into gear unless ignition is off
---
Hello! Last night we had some heavy rains with some minor flooding. I drove through the flooding which wasn't too deep...under a foot. Anyway, this morning the RS4 won't go into any gear with the ignition on. With the ignition off it'll go in and out of any gear as normal. When I start the car in neutral, it runs fine but won't go into any gear. If I start the car in gear it lunges forward (or backwards in reverse) unless I slam on the brake which then stalls the car. I have to assume that the flooded roads had something to do with this. Moisture got somewhere it shouldn't be? Any ideas? Any help is very much appreciated! Obviously I'd rather not have the car towed.

Thanks!
Tim

08-19-2014, 11:50 AM
AudiWorld Member
Join Date: Jun 2005
Posts: 213
Likes: 0
Received 0 Likes on 0 Posts

Fixed it....for now
---
Got it going on the road from starting it in gear and just going. It didn't want to shift out of first but it did with a yank, and then another yank down into second. After that it went back to normal. Could moisture be getting in somewhere and seizing something up? Rusting maybe?

All is good for now tho. I know to avoid any flooded roads now!

08-21-2014, 07:37 AM
AudiWorld Super User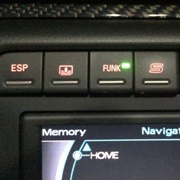 Join Date: Jun 2006
Location: great lakes, yoo ess of eh
Posts: 4,596
Likes: 0
Received 0 Likes on 0 Posts

---
...or rusty pressure plate and/or clutch disk - similar to the brake pads seizing to the rotors after washing the wheels and not drying them out right away. Who knows, glad it's resolved. These cars make terrible motorboats!

08-21-2014, 10:19 AM
AudiWorld Expert

Thread
Thread Starter
Forum
Replies
Last Post
A4 (B7 Platform) Discussion
A4 (B7 Platform) Discussion
S4 / RS4 (B5 Platform) Discussion
A4 (B5 Platform) Discussion