New addition to the audi family

09-03-2014, 07:09 PM
Audiworld Junior Member
Join Date: Aug 2008
Posts: 55
Likes: 0
Received 0 Likes on 0 Posts

New addition to the audi family
---
After searching for quite some time, I finally found an rs4 locally. It's a 2008 rs4 with titanium package. I thought my d3 was pretty quick until I drove this. I don't want to go overboard with modding this like I have most of my other Audis but would like to open up the exhaust a bit. Will doing "piggies" on this open up the note a bit and throttle response? It was a noticable gain on my b7 s4.

09-04-2014, 04:54 AM
AudiWorld Super User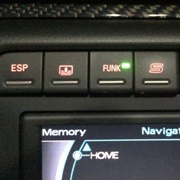 Join Date: Jun 2006
Location: great lakes, yoo ess of eh
Posts: 4,596
Likes: 0
Received 0 Likes on 0 Posts

---
Nice car! I'm not a fan of piggies but for $300 you can buy an ECS H-pipe which adds some volume, loses 10 pounds, and reportedly bumps up the power a few ponies.

09-04-2014, 11:24 AM
AudiWorld Senior Member
Join Date: Mar 2000
Location: Way Out West
Posts: 1,019
Likes: 0
Received 0 Likes on 0 Posts

09-04-2014, 03:20 PM
Audiworld Junior Member
Join Date: Aug 2008
Posts: 55
Likes: 0
Received 0 Likes on 0 Posts
Thread
Thread Starter
Forum
Replies
Last Post
RS4 (B7 Platform) Discussion
RS4 (B7 Platform) Discussion
RS4 (B7 Platform) Discussion
S4 (B6 & B7 Platforms) Discussion