Error Free LEDs for your Audi - Interior LEDs - Reverse + Much more! Ships FREE!!

03-17-2018, 04:42 AM
Audiworld Basic Sponsor
Join Date: Sep 2015
Posts: 3,665

05-10-2018, 11:29 PM
Audiworld Basic Sponsor
Join Date: Sep 2015
Posts: 3,665

---
http://deAutoLED.com/
Features of our Interior LED kits:
-Lifetime Warranty
-The lights will "fade out" when you turn off your car just like your current stock lights
-These will not stay on or "glow" after you shut off your car
-Crisp White color – No cheap blue or yellow tint
-Works with MFD (car controls)
-No Errors
-Plug and Play
-Each LED is made for a specific area meaning puddles, trunk and domes in our kit are all different styles instead of having a bunch of the same 194 wedge LEDs in a kit. This makes for more light output and bright LEDs where you need them only.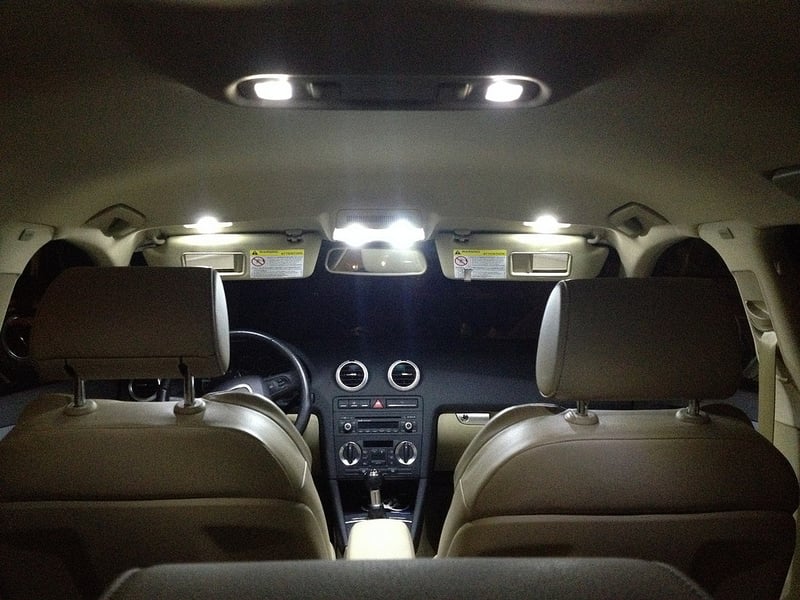 05-19-2018, 04:03 PM
Audiworld Basic Sponsor
Join Date: Sep 2015
Posts: 3,665

---
Insane bright Fogs without blinding glare
-more light on sides
-more light down the road
-perfect for foggy conditions when your low beams are trapped - your fogs will take over and help you see:
LED Headlight/Fog CREE LED Bulb with Ballast - 9000 total lumens | deAutoLED
Choose your fog model on the drop down - these work in all Audi Model!


07-08-2018, 03:07 PM
Audiworld Basic Sponsor
Join Date: Sep 2015
Posts: 3,665

08-05-2018, 05:05 PM
Audiworld Basic Sponsor
Join Date: Sep 2015
Posts: 3,665

---
Thanks for the amazing feedback.
Don't miss out - pick up a set for yourself and see the difference:
LED Headlight or Fog Bulb Kit - Error Free - Plug & Play | deAutoLED
More light
Error Free
Plug & Play
Won't cause blinding glare
NO radio interference
Shines past your headlights and helps more during bad weather, cornering, and on darker roads!

10-03-2018, 04:55 PM
Audiworld Basic Sponsor
Join Date: Sep 2015
Posts: 3,665

---
See why our interior LEDs are so popular!
-Fade in/out like OEM
-Clean white color temp
-WON'T stay dimly lit when your car is off
-No spotting with our lighting
-Our product has Frustration free packaging – every LED comes in an anti-static bag that is easy to open.
-All interior LEDs are labeled for each location (we don't simply toss the same looking LEDs in a bag and make you figure it out). Our LEDs look different for each area of your car.
www.deAutoLED.com
-Choose from red white or blue footwells
Red is one of our most popular footwell colors for good reason:
Red has great night vision properties and many studies show that it reduces anxiety and stress.

02-09-2019, 12:55 AM
Audiworld Basic Sponsor
Join Date: Sep 2015
Posts: 3,665

---
White/Yellow/Halogen/Strobe/Flash plug and play fogs:
Dual Color LED Fog [1 bulb 2 colors] Choose between a Clean White & Hyper 3000k Yellow at anytime | deAutoLED
-Plug and play
-Error free in most cars. Some might need extra resistance - we sell a new design that DOES NOT require you to attach it to metal. It is compact and easy to install - simply plug into OEM adapter and our LEDs (100% plug and play NO splicing design)
-Easy to switch between each color – simply turn OEM fog switch off/on - normal cycle: White - yellow - halogen - flash/strobe
-BRIGHT – this is not just a novelty bulb
-COLOR MATCH - these match our LEDs/HIDs in 5500K White mode
-HYPER YELLOW - these are a true hyper yellow mode you normally see with yellow lamin-x covering the lens **this is NOT a cover around a bulb or a cover on your lens - this is brand new LEDs that are a super hyper 3K yellow**
-SAFE – more light on the sides and down the road when dark or in bad weather conditions
-The Hyper Strobe / Flash – this does not simply "flash" but has a strobe/flash pattern like an emergency vehicle - you can choose between 4 different modes - video of mode 1:
https://www.youtube.com/watch?v=T-fex4DUPSg
3 colors:
-Super Hyper 3000K Yellow that many like for bad weather: Rain, snow, fog
-Clean White 5500k that matches our LED & HID Headlights
-Halogen 4300k that matches OEM
Video cycling quickly through colors AND different strobe/flash features:
https://www.youtube.com/watch?v=bQG0gRKGFk0
INFO:
-THESE ARE BRIGHT! You might have seen the novelty fog LEDs that can turn yellow/white on amazon and ebay by the thousand that don't provide much useful light, trigger errors, die quickly, or simply don't work correctly. Our new model fixes every issue you might've seen and simply works.
-These produce MORE LUMENS than many standalone single color white fog LEDs on the market
-Not only are these great for safety, daily use on dark roads and bad weather this will amaze at any car show and you will have your friend asking how did you do that and where can I get those anytime you use these fogs!
*Please note these ARE error free but in strobe/flash mode they can trigger an error in some car models – errors WILL clear once you go back to a solid color.
UPDATED FAQ
Is there a lifetime warranty?
YES! As always this comes with a True Lifetime Warranty!
----
Will your fogs keep changing colors if you use them as cornering lights?
The answer is no as this only changes by turning your fog switch on/off. If you are using your fogs as cornering lights it will always be the default color of white.
----
How does this work with the coming home feature?
This works just like OEM. It will always be the default color of white.
----
What if I have the yellow feature on and turn off my car; will it then go into the next color when I turn it back on?
The LEDs will always revert back to the default color of white. Then simply turn the fog on/off for your desired color: yellow/halogen or strobe/flash mode.
----
Can these turn 360 degrees?
Yes, these are a fully adjustable design so you can turn these 360 for the best beam angle.
----
Are these as bright as your single color de360 fogs?
While not as bright lumen wise it comes very close - many people that have switched to our single color white to our dual color yellow/white LED fog kit have not noticed any difference in visibility. As we said this is NOT a novelty yellow/white you normally see. This is meant to be used to help with your visibility.
----
Can you bypass the strobe feature?
Yes, this works when you turn the fogs on/off quickly. If your next mode will be strobe simply shut off the fogs for a few seconds and then turn it back on and it will go back to the default white.
--
Some more fun shots - in the rain:
White / the super hyper yellow - this will be a hyper lamin-x yellow without the cover!
And switch back to clean white: