Audi A6 2012 A6 Prestige | Brilliant Black w/ Titanium Interior | 45k miles | Houston, TX

03-20-2017, 05:19 AM
Audiworld Junior Member
Join Date: Nov 2014
Posts: 23

2012 A6 Prestige | Brilliant Black w/ Titanium Interior | 45k miles | Houston, TX
---
I've put it off for quite some time, but I finally need to part ways with my A6 to buy a truck for work. I hate to have to sell.
2012 Audi A6 Prestige - Brilliant Black Exterior - Titanium Grey Interior - 3.0T Supercharged V6 w/ Auto Trans - 45,2xx miles (will change since it's my daily)
LED Package w/ LED headlights, Side Assist, Sport Package, Navigation System, Bose Stereo, Heated/Cooled Seats, Sunroof. The car is lowered on KW V2's w/ ECS 10/12.5mm spacers. I have also installed the RocEuro intake, the supercharger whine with the intake is addicting! I installed new tires, brake rotors and brake pads front and rear, less than 5k miles ago. All major maintenance has been performed by Sewell Audi here in Houston. Clean Carfax. I also have all stock parts (suspension & intake), which will go with the car to the new owner.
$28,000 (firm) - Located in Houston, Texas.
The interior is immaculate for being 4 years old, there is almost no visible wear on the seats, even the driver side. The grey interior has NO stains. I CAN ALMOST GUARANTEE THIS WILL BE THE CLEANEST C7 A6 YOU'LL FIND AT THIS PRICE.
PM me for more information or pictures.
EXTERIOR PICTURES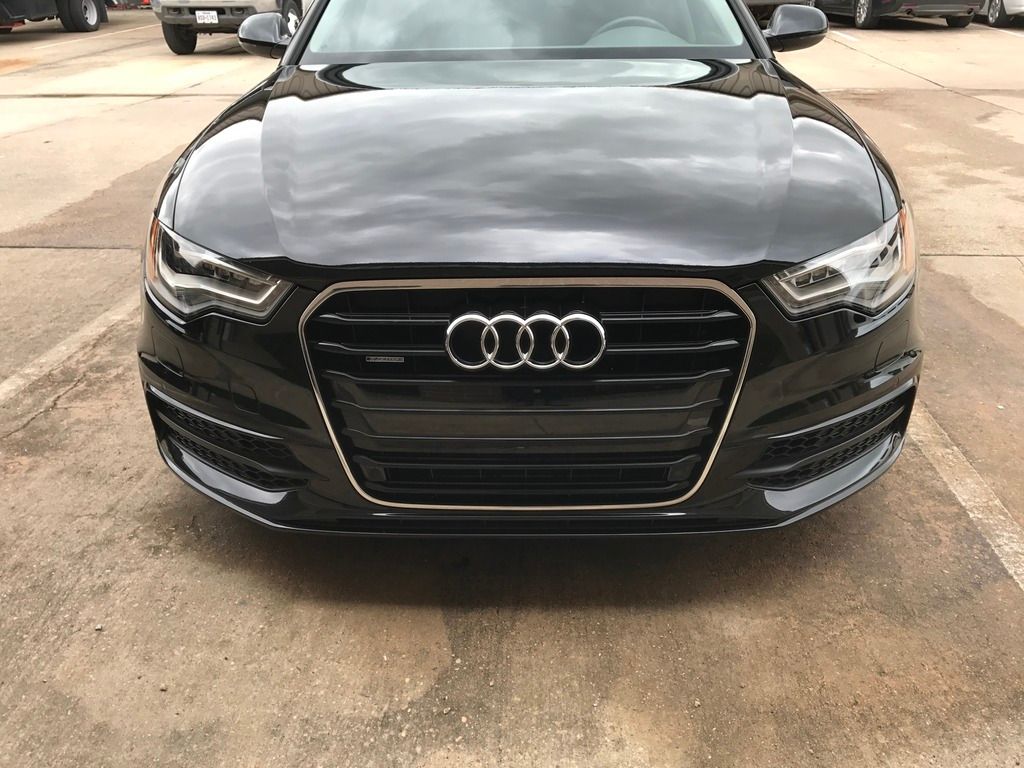 INTERIOR PHOTOS

03-20-2017, 06:49 AM
Audiworld Junior Member
Join Date: Nov 2014
Posts: 23

03-20-2017, 03:56 PM
Audiworld Junior Member
Join Date: Aug 2011
Posts: 65

---
Damn bro that's super clean!!! good luck with the sale.

03-21-2017, 04:00 AM
Audiworld Junior Member
Join Date: Nov 2014
Posts: 23

---


I'm in commercial construction sales and really bummed about having to sell. But I can't fit a ladder in the trunk and drive on a construction site in this thing.. lol

03-23-2017, 08:29 PM

---
Wow!! That car looks stunning. Reminds me of my A6 (same levels of OCD). I can't believe this one isn't sold yet.

04-05-2017, 10:53 AM
Audiworld Junior Member
Join Date: Nov 2014
Posts: 23

---
Bump. Nothing but BS buyers who can't get financed.. lol

04-19-2017, 04:59 AM

---
Wow nice ride guy, I wish I had seen this before buying my used A6 up here in NY. Good luck with the sale if you haven't sold already.

04-20-2017, 04:58 AM
Audiworld Junior Member
Join Date: Nov 2014
Posts: 23

---

04-20-2017, 12:59 PM
Audiworld Junior Member
Join Date: Aug 2009
Location: Charlotte
Posts: 26

---
Great looking ride! If I sell my S8 I may be in touch

04-20-2017, 02:19 PM

---
GLWS, great looking car and I'd be very interested in it, if it weren't for the color. I can't just bring myself to ever buy a black car again, having previously owned one. Now if it were oolong gray