Audi A8 Fs in IL: 2002 Audi S8,135k,6500$

03-22-2018, 09:18 AM

Fs in IL: 2002 Audi S8,135k,6500$
---
I have had the car since june 2015 and i only drove it for 15000 miles due to my job of a trucker.
@127902 miles:
Timing belt,accessory belt,all rollers and tensioners(next timing belt service in 75000 miles)engine oil,coolant,
upgraded oil cooler water pipe to aluminum,upgraded vacuum actuator linkage to aluminum.Ac system cleaned(had water in footwells).
Fuel pump reseated correctly with new gaskets.
Upstream O2 sensors replaced.
All this costs 4800$,i insisted on genuine oem parts for timing belt,tensioners,water pump...
Before this at 122k transmission fluid replaced with pentosin and filtran filter(500$ish)
8 new genuine oem Hitachi ignition coils from fcp euro(280$)
Rear transmission output shaft seal replaced.
New brakes front and rear(genuine oem except front discs they are brembo)
New windshield in january Fuyao(265$)
4 new bilstein shocks,mounts,strut discs(800$)
Front upper rear and front control arms new(trw and febi)
Sunroof works great,bose sound,parking sensors.
Mechanic says transmission looks to be rebuilt but no proof(shifts great).
Genuine oem W12 wheels hard to find on this continent (2000$ value)
Now the bad:
Flooded rebuilt title,no weird electrical problems i guarantee that,i drove the car to CA in january now driving it back to Chicago in few days.
Radiator needs to be replaced,i would do that if the mechanic suggested when he did the tbelt but he didnt.
Driver side door blade is loose.
Rear passanger seat has a tear,leather was not maintained,i did a couple leatherique treatments and it really made a difference.
Lost right fog light grille when i went through a big puddlle or water.
Car is in Long Beach,CA at the moment but driving back to Chicago in a day or two.
Firm on price,if it doesnt sell ill keep it.
312-2zeroeight7eight9nine call/text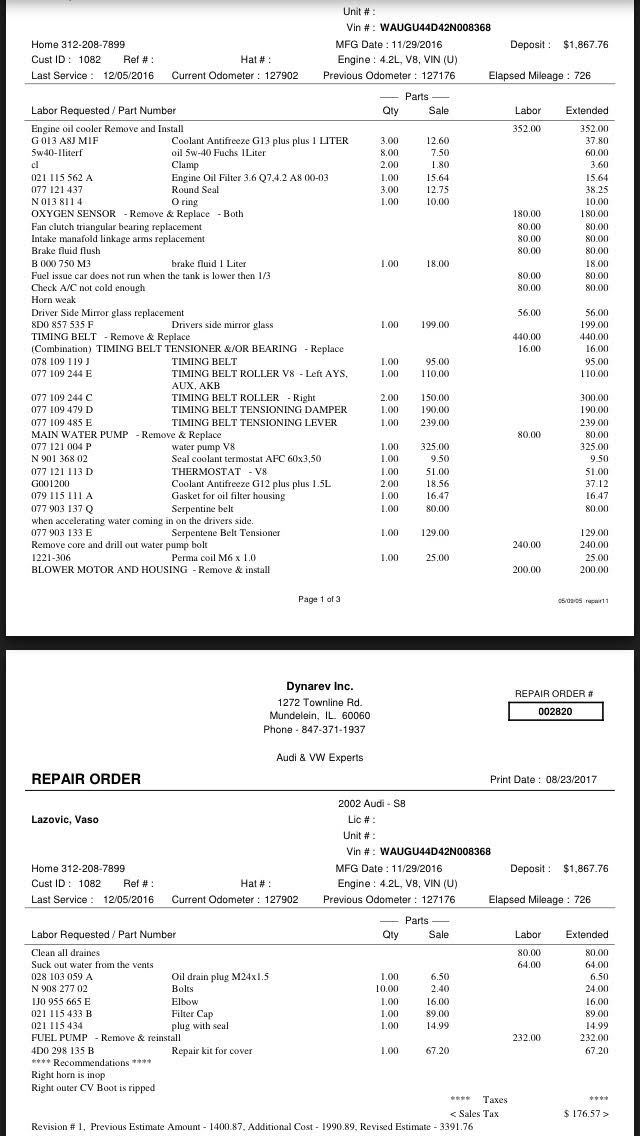 03-24-2018, 06:34 PM

---
I will consider trades and i can add cash,let me what you have.

03-31-2018, 10:19 AM
AudiWorld Member
Join Date: Oct 2005
Location: Fairfield county CT
Posts: 64

---
Thread
Thread Starter
Forum
Replies
Last Post
Audi A5 / S5 / RS5 Coupe & Cabrio (B8)
Audi 90 / 80 / Coupe quattro / Cabriolet