Where do you get your tires put on?

01-22-2019, 08:55 PM
AudiWorld Newcomer
Join Date: Aug 2017
Posts: 3
Likes: 0
Received 0 Likes on 0 Posts

Where do you get your tires put on?
---
Just curious where most of Audi owners get their tires put on...dealership or local tire shops? Trying to decide where to get my first set of replacements done...

01-22-2019, 11:09 PM
AudiWorld Member
Join Date: Aug 2018
Location: seattle, Q5 premium plus with 20" wheels, Technology pkg, Nav, B&O Sound, Manhattan Grey with Black
Posts: 185
Likes: 0
Received 0 Likes on 0 Posts

---

01-23-2019, 11:26 AM

---
Another vote for Discount Tires. They have treated me great for many years now and have even fixed tires for free that I bought elsewhere. I have never been a dealer only for parts and repairs person with any of my cars,

Not all tire shops are created equal even within the same chain. Back in college at Purdue I would never let that Doscount Tire shop even check air pressure because of bad service and workmanship.

02-18-2019, 07:15 PM
AudiWorld Junior Member
Join Date: Jan 2019
Location: AZ
Posts: 31
Likes: 0
Received 0 Likes on 0 Posts

---
Funny this came up; I'm probably finished with Discount Tire as of today (and I used to work there a long time ago).
Had Pirelli Scorpion Verde A/S Plus put on the Q5, and I had to have them rebalanced (at a different shop across the city) a couple times to get them zeroed, but they were on rails after; smooth as glass! Then I stopped at another store across Phoenix one day to have them rotated (I drive about 30k miles/year), and told them explicitly to not rebalance them. They did exactly that, and left my car shaking so bad I was sure it was going to come apart. So I stopped at the shop which originally got them right, and even they couldn't get them back to zero. That began a series of about seven visits, each telling me the tires were each off between .25oz and 1.50oz; a week later, another store would "correct" them and tell me the same.
So I stopped at the store near my office and had them give a whirl. They came about as close as anyone, but I still had that droning sound with my *** end shaking, which when you drive 2,500 miles each month can get quite exhausting. They tried it again, and again a little better but hardly. So I finally called and told them I'm done with it and we're taking them off. That's when I found a steal on some A8L wheels a friend had sitting in his garage, and told them I'd pay the difference for 20s (from 18s - gross). They tried to talk me into the Conti DWS06 and not the same Pirelli, but the 50% price hike and reduced warranty isn't appealing given my monthly mileage (maybe I should reconsider but I digress).
Had them mounted today and you guessed it: much better than the plagued 18s, but still has my butt shaking at 75+ with a slight drone. On the plus side it doesn't get downright uncomfortable running into the 90s/100s as the others did, and they track much more true. So an overall win.
Long walk to ta little house, but I'm going to have another place handle the balance from now on to see what can come of it. I do my own rotations so that's not an issue. DT is just too hit or miss and I pay too damn much for the experience of an Audi ride to continue on this track.
Just my nickel.
ETA: this is probably the wise route for me, though my nearby high-end shop isn't too pumped on me since I do most of my own work after consulting with them.


04-20-2019, 05:16 PM
AudiWorld Junior Member
Join Date: Nov 2017
Posts: 13
Likes: 0
Received 0 Likes on 0 Posts

---
Anyone can recommend me a shop in Philly area to install new tires?
The Audi dealership closest to me won't install tires unless I bought tires directly from them.
Just trying to not scratch those wheels.

04-21-2019, 01:40 AM
AudiWorld Super User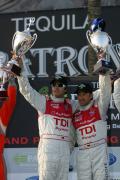 Thread
Thread Starter
Forum
Replies
Last Post
A4 (B5 Platform) Discussion
A4 (B6 Platform) Discussion