Please help oil leaking audi a6 2001 2.7turbo

11-09-2012, 09:10 AM
AudiWorld Newcomer
Join Date: Nov 2012
Posts: 2
Likes: 0
Received 0 Likes on 0 Posts

Please help oil leaking audi a6 2001 2.7turbo
---
Hello guys.Sorry for my english first. I just boughtan audi a6 2001 2.7 biturbo, car clean inside andd out,carfax showed properly maintained records,mileage is 180.000, runs smooth , no noisebut....just find out oil leaking (about 6cm in diamater in 3-4 hours), check engine light was on, now it is off, I brought a car to service, they told me left turbo leaking, also smells litttle burning oil, they count me 8000$ to replace 2 turbos,4 o2sensors and 2 cat canv.i bougght car for 2500$,i am feeling something is not right.People please help me with any ideas how to detect problem and get it done as cheaap as possible, i am not a mechanic at all, just car noob person and i don't drive a lot 30 minutes per day, and driving slow like old person.I just want to stop leaking and get sticker.thanks inadvance.

11-10-2012, 06:18 AM
AudiWorld Newcomer
Join Date: Nov 2012
Posts: 2
Likes: 0
Received 0 Likes on 0 Posts

---
thanks for reply.... no it does not smoke,when i started car for first time from long time standing in garage it smoked for few minutes, now with everyday using, it does not smoke at all, but smells little.
i have no idea about how to check gaskets, do you know rougly how much will it cost(i mean mechanic work) no like big fancy services?

11-10-2012, 11:03 PM
AudiWorld Super User
Join Date: Aug 2011
Location: Washington
Posts: 2,369
Likes: 0
Received 0 Likes on 0 Posts

---
Valve covers, chain tensioner gaskets, and rear cam plugs leaking. will leak right onto the turbos, very difficult to see. But always the issue on all 2.8/2.7T engines

11-19-2012, 09:13 AM
Audiworld Junior Member
Join Date: Aug 2012
Posts: 26
Likes: 0
Received 0 Likes on 0 Posts

11-20-2012, 07:26 AM
AudiWorld Newcomer
Join Date: Sep 2012
Posts: 1
Likes: 0
Received 0 Likes on 0 Posts

---

12-06-2012, 11:41 AM

---
Unless the car is smoking while driving, producing a dentist's drill noise while accelerating, or lacking power severely the turbos are probably in good working condition.
Valve cover gaskets, cam chain tensioner gaskets, and cam seals all like to leak oil. The oil that seeps out of these leaks down the head and on to the manifolds (which get extremely hot) thus causing some smoking if oil comes in contact with them.
We have complete gasket kits available below!
Click

HERE

to order or for more information.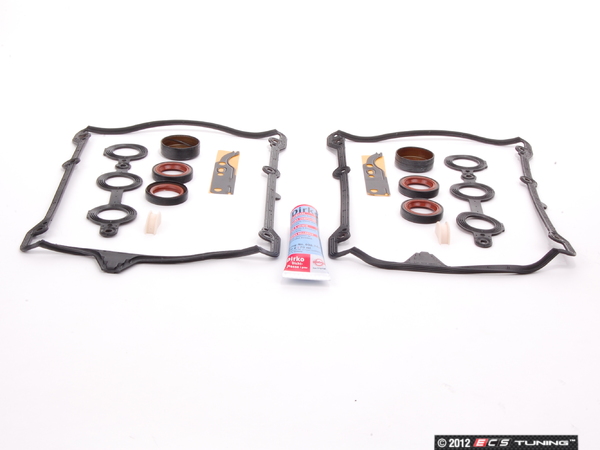 Let me know if you have any other questions.
Jason

01-21-2013, 08:40 AM
AudiWorld Member
Join Date: Apr 2012
Posts: 140
Likes: 0
Received 0 Likes on 0 Posts

---
I am sorry to say, but if you are not mechanically inclined, be prepared to be taken for a ride. (figure of speech).

All of us here have had this problem at some point. The parts are not expensive but the labor is. If white smoke is not coming out of the tail pipe then it is probably not the turbos. Diagnose the cam chain gaskets and valley plugs first. Then the turbos last, and definitely not the cat converter or o2 sensors.

Do not let anyone tell you its the cylinder head gasket, you will end up paying for the job and still have the oil leak. Buy the parts as a kit. It will be a cheaper. See blauparts.com

And last. It is a job easier done with the timing belts removed, so replacing the belts and fix the oil leak at the same time will save you hundred(s)
---
Last edited by P4Ring; 01-22-2013 at

02:20 PM

.
Thread
Thread Starter
Forum
Replies
Last Post
A6 / S6 (C5 Platform) Discussion
A6 / S6 (C5 Platform) Discussion
A6 / S6 (C5 Platform) Discussion