removing an ignition cylinder on a 1997 a4 quattro

03-10-2011, 03:24 PM
AudiWorld Newcomer
Join Date: Mar 2011
Posts: 5

removing an ignition cylinder on a 1997 a4 quattro
---
can anyone point me in the direction of replacing an ignition cylinder.. i am pretty good with cars and was hoping to find a cheaper way to do this.. i bought a new cylinder and key for a 1997 audi a-4 2.8 quattro.-- a local locksmith wants 250$ to swap it out.... please help

03-10-2011, 04:12 PM

---
Did you check the Tech Section? Pretty sure there is a write-up there.

03-11-2011, 05:54 AM

---
I did the same on my 96 A4. Bought a new cylinder and just carried the new key and the key fob. Here's what Bentley told me to do. It never worked, so I finally drilled a small hole through the cylinder where the latch is that's supposed to release. Worked great. If you mangle the lock, who cares?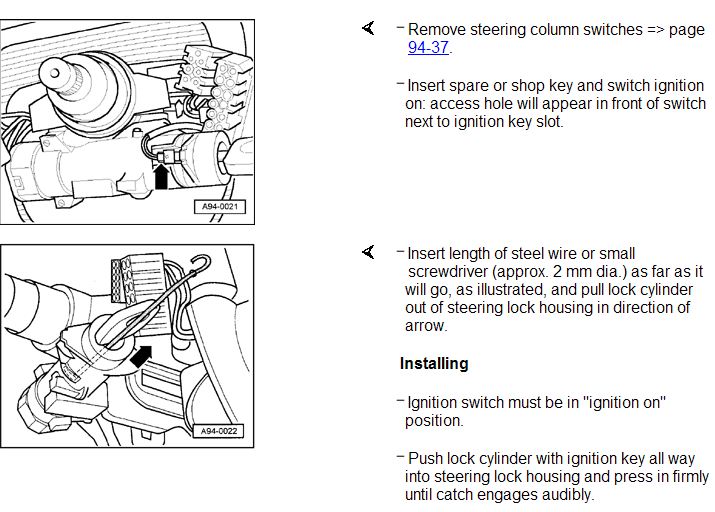 03-11-2011, 06:15 AM

---
I should add, if you have to do my drill hole technique, all you need is a small hole to push on the little lever that's locking the cylinder in place. If you do it right (and it's not too hard) you'll leave that housing in place so that the new cylinder will catch the same part of that casting.

03-11-2011, 06:19 AM

---
That's the way I do it. Drill, baby, drill.

mtrox, I see you tried to PM me. My mailbox is full. I hate the AW PM system and miss the KAWF system where everyone had visible email addresses. If you (or anyone else) wants to contact me, tmullaneATgmail gets it done. Thnx.

03-11-2011, 06:35 AM

---

03-11-2011, 10:02 AM
Audiworld Junior Member
Join Date: Sep 2009
Posts: 53

---

03-14-2011, 04:31 PM
AudiWorld Newcomer
Join Date: Mar 2011
Posts: 5
Thread
Thread Starter
Forum
Replies
Last Post
A4 (B6 Platform) Discussion
Audi A5 / S5 / RS5 Coupe & Cabrio (B8)
Audi 5000 / 200 / V8 Discussion
Posting Rules
You may not post new threads
You may not post replies
You may not post attachments
You may not edit your posts
---
HTML code is Off
---