SQ5 21" Wheel weight

11-30-2016, 09:41 AM

SQ5 21" Wheel weight
---
I recently had the opportunity to accurately weigh just the stock 21" wheel from my SQ5 without the tire. Came in at 34.5 lbs.
I know it's no lightweight, but I thought it would be more given the diameter and chunky spokes.
For reference...
Audi OEM Wheels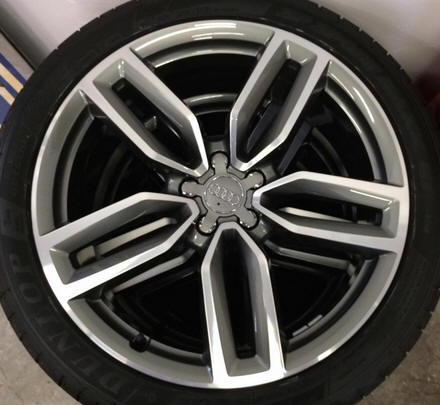 ---
Last edited by gk1; 11-30-2016 at

09:52 AM

.

12-01-2016, 09:26 AM

---
Good to have these hard data points available on the board.

35.4 pounds for the OE S8 21x9's in 5 spoke/rotors as a comparison point. Either is a lot and really adding up the unsprung + rotating mass weight. The 20x9's in various OE D4 wheels pull out about 4 pounds. All are cast for that comparo. When I pick up a Q5 wheel in any of the 20's I have like for winter tire change out I just did, they are really porkers. I actually switched all my D3 and 4 wheels to one of the factory forged designs offered for those, which pulls out another 4 pounds or so per corner; in total makes them somewhat lighter than the Q5 ones even in w/ both in 20s and the D body wheels w/ 275's. In total w/ 20's and forged OE and same 275's, I went down almost 9 pounds a corner on S8. Noticeable in the driving dynamics and feel. Rules of thumb and even some calcs you can find for rotating (and unsprung) mass with some web searches put equivalent static benefits at anywhere from about 1.3 to 5x, depending on whom you believe.

12-02-2016, 05:27 PM
AudiWorld Member
Join Date: Oct 2015
Location: Norman, OK
Posts: 118

---
SAme thing I found as well on the SQ5 21" wheels, with the stock tires they weigh in around 63lbs. The 20" HRE wheels I went with weigh in at 25lbs, the tires were 2bs lighter than stock so I knocked 12lbs off of each corner.

12-06-2016, 07:39 AM

---
Interestingly, when I weighed my OEM 21s they were 67.6 lbs with the OEM Dunlops at 8/32" on them, so I had estimated them to be about 37 lbs each. I guess there's some variances with our scales.

12-06-2016, 07:46 AM

---

12-06-2016, 10:27 AM

---

12-06-2016, 12:38 PM

---
Basically, I Googled it in some depth in the past. Found various write ups, one with an actual spreadsheet/set of calculations to do estimates. But it all goes back to some key assumptions most likely, as opposed to hard empirical evidence at level of testing under lab type conditions and sorting down to the weight and overlapping diameter variables.
Spreadsheet is attached FWIW. If you Google name of spreadsheet, you can get back to some threads scattered around web and various enthusiast makes and discussions.