Jumpy Idle - B7 RS4

09-04-2016, 08:51 AM
Audiworld Junior Member
Join Date: Oct 2007
Posts: 20
Likes: 0
Received 0 Likes on 0 Posts

Jumpy Idle - B7 RS4
---
After 115K miles of pretty much reliable driving, I am starting to have to chase down an issue and need some input:

At idle, RPM's jump from 800 to 1200 then back down to 800 and up to 1200, over and over, consistent up and down.

If I take out the dip stick while this is jumpy idle is happening, the idle smooths out to almost perfect?

I checked the MAF on a 1st gear pull and it seems to be measuring correctly.

The adaptive results while the RPM's are up and down are:

Bank 1 (idle/partial)
-2.6% / 0.0%
Bank 2
-1.5% / -4.7%

The other day, I took out the dip stick for about a minute while the idle smoothed out.....I put the dip stick back in and the was still smooth The next 2 days the car seemed to be much more responsive and powerful....today, the idle is jumpy again.

Upon COLD START - the initial idle is much higher than normal during a cold start....like almost 2000 rpm's before it kicks down to lower RPM.

My gut tells me the oil separator may be kaput ??? Any other ideas?

09-07-2016, 03:41 AM
AudiWorld Super User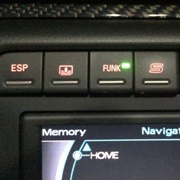 Join Date: Jun 2006
Location: great lakes, yoo ess of eh
Posts: 4,596
Likes: 0
Received 0 Likes on 0 Posts

---
I'd start looking around for a vacuum leak, especially under the manifold and as far back as the trunk (exhaust flap solenoid and reservoir). The easiest way is to spray a tiny amount of starter fluid or carb cleaner on the various suspects while the motor is idling and be alert to rpm increases.

Good luck and let us know what you find.
Thread
Thread Starter
Forum
Replies
Last Post
Audi A5 / S5 / RS 5 Coupe & Cabrio
Audi 90 / 80 / Coupe quattro / Cabriolet
Audi 5000 / 200 / V8 Discussion
Audi 5000 / 200 / V8 Discussion
A4 (B5 Platform) Discussion