APR CF Intake installed

07-11-2019, 09:43 AM

APR CF Intake installed
---
high quality CF
Install was pretty easy but I did have to trim the length of one bolt
At least an extra 100Awhp increase😏
---
Last edited by milo337; 07-11-2019 at

08:20 PM

.

07-12-2019, 06:40 AM
AudiWorld Senior Member
Join Date: Mar 2000
Posts: 1,668
Likes: 0

---
The underhood temps in the TTRS is insane, and I don't see how the APR kit can perform except when everything is cold. There are a number of others that use the fresh air inlets, and I have to believe they are going to be better daily drivers.

07-12-2019, 09:48 AM

---
I feel U guys about the hot engine bay issues. APR told me that the hot air is offset be the amount of flow vs cold intake, which canít flow as much. Another point I just wanted to have all my mods with APR parts.

07-13-2019, 06:57 AM
AudiWorld Super User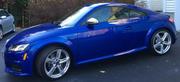 ---
I'm really surprised that APR wouldn't simply enclose/duct the conical filter as most others do (e.g. 034 Motorsport). Especially an outfit who knows the negatives of hot engine bay air. But I can understand your wanting to keep it all in the APR family to lessen tune variables.



07-13-2019, 08:36 AM
AudiWorld Senior Member
Join Date: Mar 2000
Posts: 1,668
Likes: 0

---

07-13-2019, 03:04 PM

---
Originally Posted by
JeffreyTT
Well, I suspect that it's even or worse, as those temps are extreme. Considering that the IC is already on the small side, I just don't buy what APR is saying, especially when every other CAI uses a box and connects to the fresh air. Imagine how good it would be if APR boxed it and fed from outside. It's a money grab from my perspective.
My APR FMIC is a pretty good size and flows well. Also the cooling efficiency is very good too! Canít make everyone happy but Iím super happy with the APR STG2 E85 Tune and their products. My RS traps
[email protected]
/4mile and will surprise lots of cars and thatís including my friendís Huracan🤗
---
Last edited by milo337; 07-13-2019 at

03:07 PM

.