Audi: How to Make Audi Windshield Washer Fluid
Read on to learn the simple ingredients that go into the windshield washer fluid available at your local Audi dealership.
This article applies to the Audi A3, A4 B7/B8, A6 C5/C6, Q5/Q7.
Audi does not sell original equipment manufacturer (OEM) windshield washer fluid at local dealerships. However, the automotive giant will top up the fluid in your windshield washer tank for free when you make an appointment to have your vehicle serviced. If you don't want to make repeated trips down to your local Audi dealership for another 'top-up', then you might want to mix your own batch for use whenever you need it. Here's how!
Materials Needed
Methanol
Ethanol
Non-ionic surfactant package
Distilled or de-ionized water
Storage container or bottle
Goggles
Step 1 – Gather the ingredients
The ingredient list for your mixture is pretty straightforward; however, you may need to make some substitutions.
When it comes to the rubbing alcohol, it's best to choose a brand of ethanol that does not contain oil, if possible. Castor oil is often added to store-bought rubbing alcohol to prevent the skin from drying out. Be aware of how much oil is added, if at all. You may also use anti-freeze as a substitute.
The surfactant package that you choose does not have to be non-ionic; however, it is highly recommended that it is. P21S is a great brand to choose, with Audi owners loving their washer booster. Be sure to dilute according to the instructions provided.
Finally, you can choose between distilled and de-ionized water. However, you may want to stay away from tap water, which might plug your nozzles with hazardous hard water deposits.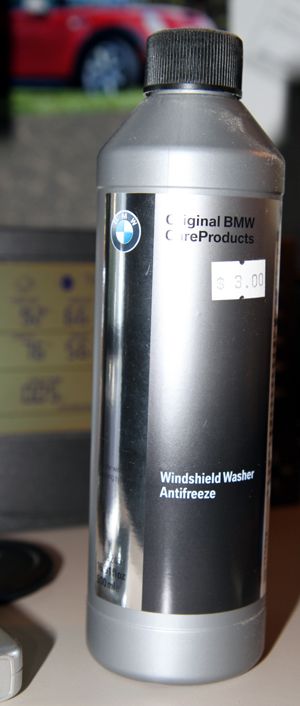 Step 2 – Mix the ingredients together
Mix your ingredients together in a clean bottle.
10% methanol

10% ethanol

Washer booster (the percentage that you will need to add will be based on the manufacturer's instructions)

Water
The percentage of water that you will need to add to complete the formula will depend entirely on how much washer booster is required by the marker of the surfactant package you have chosen.
Warning
When combined, the above-mentioned ingredients are extremely flammable. Store your bottle in a cool, dry place with the top securely fastened.

Step 3 – Maintain your safety while using
If your skin comes into contact with the mixture at any point, wash the entire area with soap and water. Call a physician if signs of irritation develop (and persist).
As a note of precaution, it's highly recommended that you wear safety gloves and protective eye wear (goggles) when handling the mixture, including, but not limited to, mixing the ingredients together, measuring the ingredients into separate containers and pouring the mixture into your windshield washer tank.
Related Discussion