:: ECS Tuning :: NEW!! B7 A4 2.0T ECS Baffled Oil Catch Can

09-01-2015, 09:16 AM

:: ECS Tuning :: NEW!! B7 A4 2.0T ECS Baffled Oil Catch Can
---
Introducing ECS Tuning's newest release, the Performance Baffled Oil Catch Can System, engineered in-house and manufactured in the USA. Our system was designed with the consumer in mind to provide effortless installation with no necessary modifications to be a perfect fit for your 2.0T. With no required modification, this performance system is also fully reversible and even fits
beneath the factory engine cover
!
Today's direct fuel injection systems have taken engine performance to a whole new level, but there is a drawback. Without fuel vapor to help clean the intake valves, the oil particles that are drawn into the intake from the PCV system will deposit themselves onto the valves and intake ports. Over time this will result in increased levels of carbon buildup which can hinder performance and fuel economy.
Key benefits of the ECS Baffled Oil Catch Can System:
Highly Efficient Oil Separator (Catch Can)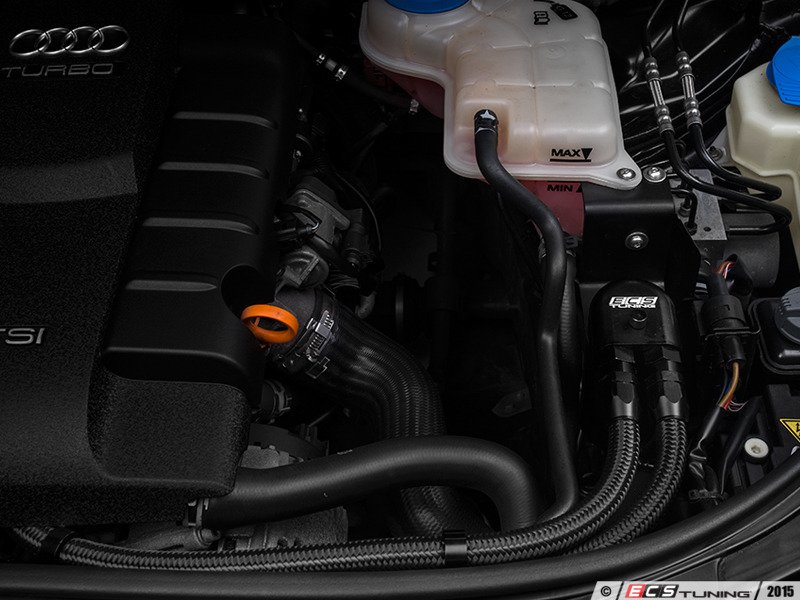 Strategically positioned 4 chamber baffle system maximizes oil / air separation
Engineered to create multiple changes in the direction of airflow within the separator to cause oil droplets to fall out of suspension before exiting the catch can
Knurled and black anodized integrated oil dipstick makes inspecting oil volume of reservoir clean and simple
Fully serviceable for routine cleaning and maintenance; Includes 2.5mm allen key to remove baffle plates for cleaning
-10AN ORB (O-Ring Boss) fittings for leak-free fitting connections
6061-T6 billet machined body, anodized black for lasting protection and appearance
Easy to drain reservoir, simply un-threads from the oil separator for quick draining or cleaning
Billet machined FSI Adapter Plate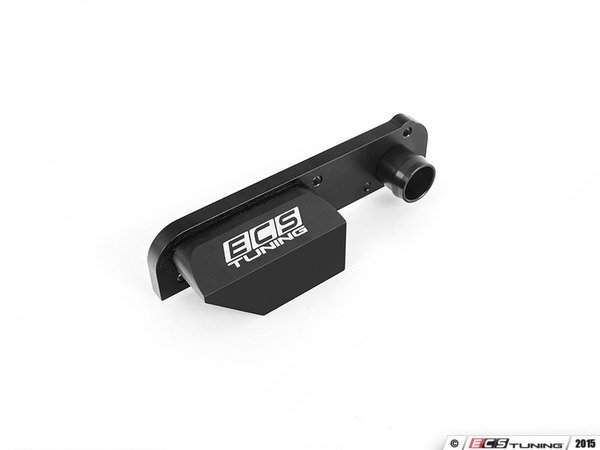 Integrates -10AN fittings for leak-free fitting connections to the pre-cut custom length -10AN braided nylon hose and connects the OEM PCV hose to a machined factory fitting connection.
Completely reversible installation, as no OEM components are permanently modified. This is ideal for those who choose to remove their catch can during the cold winter months
Most catch cans replace of the factory PCV (positive crankcase ventilation) system, however the ECS Tuning Performance Baffled Oil Catch Can System utilizes key components of the OEM PCV system to expand on it's efficiency by retaining ultra-fine oil vapor that has already passed through the factory fine oil separator. This also provides the benefit of not having to empty the oil can catch as often as other systems on the market, since the oil vapor will be filtered through two components before reaching the intake tract. Although the OEM PCV system performs well and meets emissions standards, installing ECS Tuning's Performance Baffled Oil Catch Can System will increase efficiency of the PCV system and keep the ultra-fine oil vapor contained in the blow-by gases from entering your intake system and causing excessive power loss and carbon buildup.
Each system includes the following:
4 Chamber Baffled Oil Catch Can with integrated dipstick and service tool
CNC bent, black anodized, aluminum catch can bracket
Fasteners for securing the bracket to the coolant reservoir bracket
-10AN black nylon braided hose cut to the perfect length -- This alone makes installation as easy as changing your own oil!
-10AN black anodized fittings are pre-installed on each hose for a direct fit install. Oil and fuel resistant to chemical degradation.
-10AN black anodized line separators
Oil and fuel resistant, high temperature viton o-rings pre-installed on all adapters
Billet machined 6061-T6 aluminum components, anodized black:
PCV end cap fitting with securing clip
-10AN machined PCV adapter plate
Nice Catch!
Click

HERE

to order or for more information
Fits:
Audi B7 A4 2.0T (2005.5–2008)
Be sure to check out our ----->
Installation PDF
Thread
Thread Starter
Forum
Replies
Last Post
S4 (B8 Platform) Discussion
Audi A5 / S5 / RS5 Coupe & Cabrio (B8)
A4 (B5 Platform) Discussion
S4 / RS4 (B5 Platform) Discussion
A4 (B6 Platform) Discussion