:: ECS Tuning :: NEW!! B8 S5 3.0T ECS Performance Lightweight Flywheel

09-30-2015, 09:20 AM

:: ECS Tuning :: NEW!! B8 S5 3.0T ECS Performance Lightweight Flywheel
---
An innovative new flywheel option is now available to Audi B8 S5 3.0T owners!
Introducing the ECS Tuning Single Mass Lightweight Flywheel, engineered in the U.S. by our leading R&D team for increased power transfer, faster revs, and improved acceleration. A decreased mass means a lower moment of inertia and, weighing in at only 18.3lbs, the ECS Single Mass Flywheel spins up faster and easier than the heavy 29.8lb unit installed from the factory. Saving 11.5 lbs of rotational weight!
Light doesn't mean wimpy. Our precision CNC machined single mass flywheel is amazingly strong, durable, and resilient to failure when compared to the OEM multi piece moveable unit. Designed to accommodate all conditions: from Sunday drives through the country, to the abuse of the track.
Key Features:
Billet Chromoly 4140 steel & 6061-T6 aluminum construction for superior strength and durability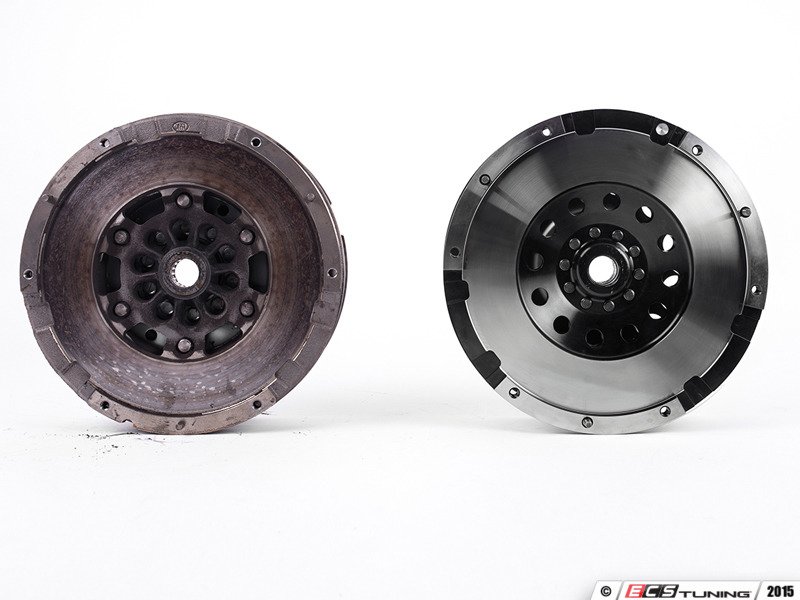 Heat treated for wear resistance
Black zinc plated for corrosion resistance
Weighs in at only 18.3lbs!
11.5lbs lighter than stock!
SFI 1.1 tested and certified to ensure safe operation*
Why is SFI testing and certification important?
The SFI Foundation, Inc. (SFI) is a non-profit organization established to issue and administer standards for the quality assurance of specialty performance and racing equipment. SFI certification indicates a flywheel has been certified using industry-standard SFI Spec 1.1 standards by an independent testing body to ensure quality of both design and materials for flywheels utilized in competitive motorsports. This testing requires that the flywheel must hold at 10,500RPM over an extended period of time for validation of durability, design, and construction.
Having successfully passed SFI certification, this flywheel has an individual SFI serial number found in a laser etching, and on an affixed sticker. This certification means our ECS-engineered flywheel is safe and reliable during the rigors of competitive racing; it's also safe and reliable for years and years of street use.
Performance Benefits
Faster revs
Improved throttle response
Smooth and easy stock-like engagement
Improved acceleration
Sportier driving experience
Allows you to utilize any clutch kit compatible with the B8 3.0T OEM flywheel
Compatible with SPEC and South Bend clutch kits.
Heavyweight Engineering
Click

HERE

to order or for more information
Fits:
Audi B8 S5 3.0T (2010+)
Be sure to check out our ----->
Installation PDF
Thread
Thread Starter
Forum
Replies
Last Post
A4 (B7 Platform) Discussion