Audi RS4 rollover at Willow Springs Raceway

03-27-2015, 12:39 PM
AudiWorld Member
Join Date: Feb 2002
Posts: 363
Likes: 0
Received 0 Likes on 0 Posts

Audi RS4 rollover at Willow Springs Raceway
---
Very lucky to walk away from this.
Drivers comments:
In this case, I turned in too early and too sharply. It was early in the day and early in the session, so I wasn't up to full speed and felt I had enough track to recover. The car tracked out and I maintained the steering angle I normally would for track out, pointing me down the track toward the right side to set up for T1.
Though, in this case, the angle was too steep and the grip too low, so the car tracked out a foot too wide. I know the protocol is to just go straight off with two feet in, and in hindsight I should have done that. However, in the moment, it wasn't apparent the car was going to go wide until the very last instant, leaving me no chance.
3 pictures and video in the gallery
.

03-27-2015, 06:20 PM
Audiworld Junior Member
Join Date: Dec 2013
Location: San Diego
Posts: 85
Likes: 0
Received 0 Likes on 0 Posts

03-28-2015, 10:02 AM
AudiWorld Super User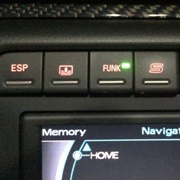 Join Date: Jun 2006
Location: great lakes, yoo ess of eh
Posts: 4,596
Likes: 0
Received 0 Likes on 0 Posts

---
Holy WOWSER. I'm very glad that you're all right. From all the black tire marks in the vid, it looks like you're not the first to go off the track there. Dang, so sorry!
Thread
Thread Starter
Forum
Replies
Last Post
RS4 (B7 Platform) Discussion
RS4 (B7 Platform) Discussion
RS4 (B7 Platform) Discussion