Need help- cabin smelling like fuel

10-27-2014, 04:58 PM
Audiworld Junior Member
Join Date: Jan 2014
Location: SoCal
Posts: 19
Likes: 0
Received 0 Likes on 0 Posts

Need help- cabin smelling like fuel
---
Hi guys, I need help. For the past couple of months I've been noticing the cabin smelling like gasoline when I have the air off and windows down. It's especially bad with the sunroof up and with a full tank of fuel. I can't smell anything outside the car. Also nothing if I have the air on and windows/sunroof shut. Any ideas? I'm going to take it in to the dealer soon. Thanks!

10-28-2014, 04:47 AM
AudiWorld Super User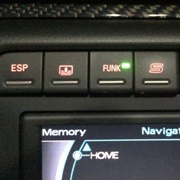 Join Date: Jun 2006
Location: great lakes, yoo ess of eh
Posts: 4,596
Likes: 0
Received 0 Likes on 0 Posts

---
Lots of fuel fittings under the hood. Does it stink under there? Mine had a very minor fuel weep under the intake manifold. It happened last summer and only in extremely hot weather but seemed to have self-cured

10-31-2014, 09:50 AM
Audiworld Junior Member
Join Date: Jan 2014
Location: SoCal
Posts: 19
Likes: 0
Received 0 Likes on 0 Posts

---
Just an update. The dealer told me this morning they found a crack in the fuel level sensor housing just beneath the rear seat. Hope to cure the problem soon.

11-03-2014, 10:00 AM
AudiWorld Expert

Thread
Thread Starter
Forum
Replies
Last Post
A4 (B5 Platform) Discussion
Audi 5000 / 200 / V8 Discussion
Audi 5000 / 200 / V8 Discussion
Audi 4000 / Coupe GT Discussion